Updated May 5th
Among the most anticipated Record Store Day releases is a new record from the day's annual unofficial ambassadors: The Flaming Lips. I say "unofficial ambassadors" because although they've never been formally granted the status, no other artist has matched the Lips' history of first class releases on Record Store Day and its Black Friday kid brother. While many acts offer low hanging fruit (say, the umpeenth reissue of the most popular item from their catalog), year after year the Lips whip up something special just for these days. Suffice to say: The Flaming Lips love Christmas, The Flaming Lips love Halloween, but they've provided plenty of reasons for Flaming Lips fans to love Record Store Day most of all. 2017 is no exception, but before we detail that let's first revisit some quotes from an interview Wayne Coyne gave earlier this year to nastygal.com when asked about his dream concert:
"Well, we have a record that's gonna come out. Nobody knows this yet, but I guess we can probably talk about it now. So, for the past five years, we've run in circles that are connected to the Virgin Records guy, Richard Branson. He's very set on being part of the team behind the first musicians to go into space, and I'm always around these people a few times a year, and we keep asking each other, 'So who's it gonna be?' We all know that Lady Gaga wants to be, and I think that's very possible because she could simply go up there with a microphone, play a track, not take a shit for a day or two, and then fly back down. We always have this big road crew, these big amps, and all these things that rock groups still have, so it seems very unlikely."
"So this next record we have coming out is like a fantasy record of us performing on an international space station. We have so many recordings of us playing live, and we've taken some of the most insane audience sound bites, like the chants in between songs and stuff–we've taken these and put them to some demos we have in our studio. We made this fantasy thing where we're just up there, performing on the space station, but this space station doesn't actually exist the way we think of space stations now; it's like the space station that existed in my childhood perception of what a space station would be. I was born in 1961, and when I was eight years old, they were just landing on the moon. So I remember it being on TV and going outside to look at the moon with my dad's binoculars and seeing the flag."
"When you're eight, you're convinced that these are pretty fuckin' powerful binoculars, dude. And thinking that there would be a space station in ten years that would be giant, and we could go there to just do whatever–that's how I'm putting the record forth. Like Space Odyssey; it's just this giant, beautiful space station, not one of those dumb little capsules just floating around out there."
"But see, we have to think about these things. Like, how do you shit in outer space? It's a real thing, and we've done research on it. We know that you go into a little vacuum-sealed thing that freezes it, and they don't even throw it out into space, they reuse it. They reuse everything because weight in space is such a premium. Everything gets recycled. Your food must taste so horrible, but you know, there are sacrifices we have to make to travel in space. That's probably why Lady Gaga won't do it, she's like, 'I am not eating someone else's shit for dinner.'"
Flaming Lips new album "Onboard the International Space Station: Concert for Peace" tops Record Store Day preview:https://t.co/rLtyq1yU0Q pic.twitter.com/MEvdbJyaaC

— The Future Heart (@TheFutureHeart) March 18, 2017
Let's back up a bit.
Last October Wayne Instagrammed some sketches of The Flaming Lips playing onboard the international space station (though it wasn't apparent at the time that's what the drawings depicted), and in November he teased the Lips were working on artwork for Record Store Day 2017:
We can now announce the official title of the new Lips faux live album is Onboard the International Space Station: Concert for Peace and official product description reads, "Limited edition orange vinyl featuring seven live(ish) tracks from Oczy Mlody reimagined as a fictional/fantastical live Flaming Lips performance on the International Space Station." In fact it was recorded at Pink Floor Studios and Tarbox Road Studios with The Flaming Lips and Dave Fridmann sharing mix and producer credits. Dennis Coyne mixed it as well, Fridmann mastered it and Scott Booker is also credited as a producer. Set for release this Record Store Day, April 22nd, the tracklist and cover art are below.
UPDATE – Concert for Peace will have a general retail CD and digital release on May 5th (note for budget-minded fans: the best deal at the moment is on Amazon; pre-order now for just $10.98). A general retail orange vinyl release is expected June 16th (pre-orders available now on Amazon). 1,700 copies of Record Store Day's orange vinyl pressing are available now on the Lips webstore.
Stream "There Should be Unicorns" and "Nigdy Nie (Never No)" from the album above, "We A Famly" below and the entire album on Spotify.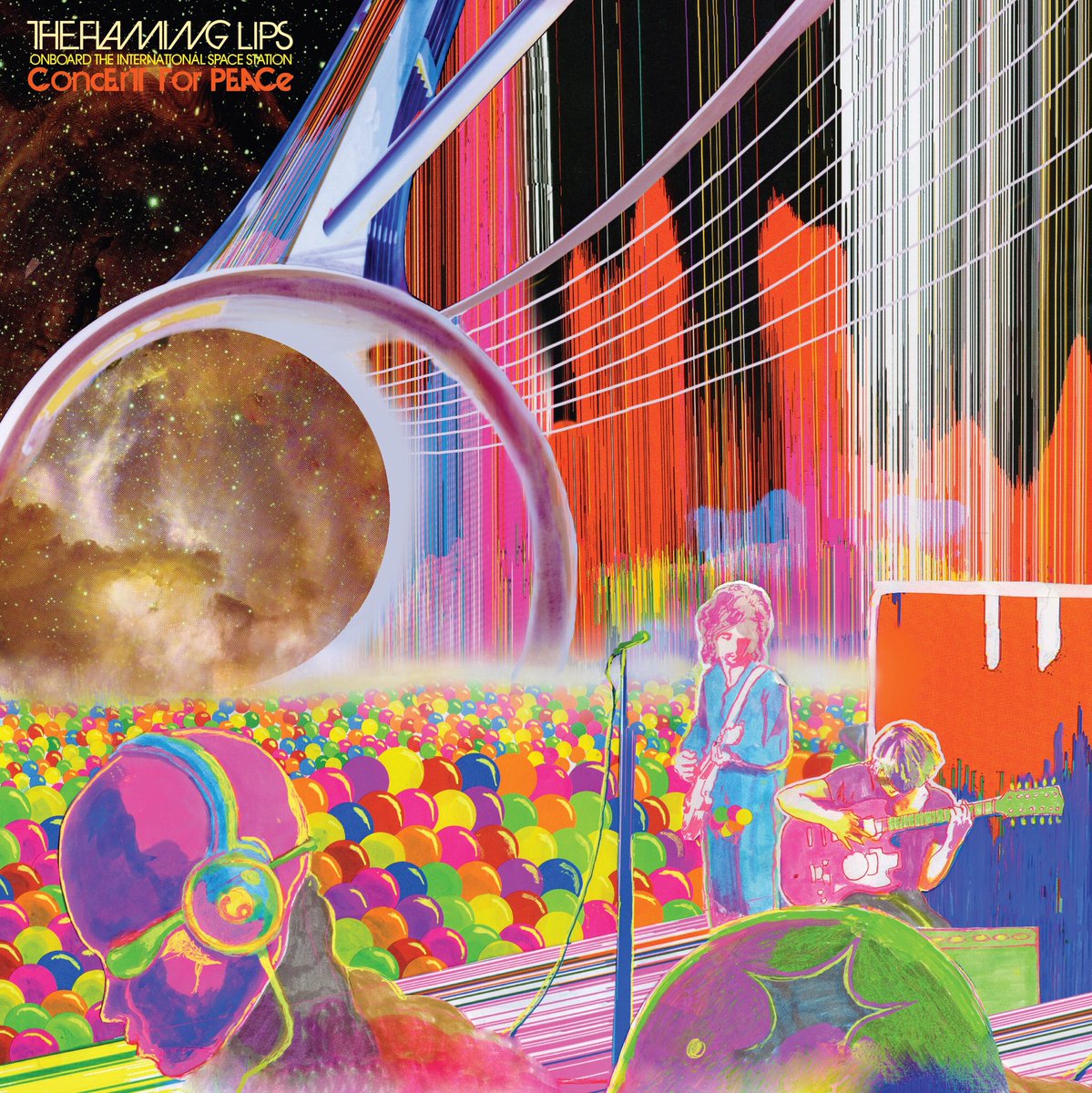 Tracklist
1 How?? – 6:29
2 Do Glowy – 3:14
3 Listening to the Frogs With Demon Eyes 3:33
4 Nighty Nie (Never No) – 5:26
5 The Castle – 5:54
6 There Should Be Unicorns – 8:45
7 We A Family (featuring Miley Cyrus) – 5:50