Presumably most non-Top 40 oriented music fans weren't expecting much of the 56th Annual Grammy Awards given LL Cool J hosted and non-joint performances were only sanctioned to Hunter Hayes, Katy Perry, John Legend, Kacey Musgraves, Taylor Swift and Lorde (…then again, does Ringo drumming behind Paul McCartney really count as Grammy collab? In any case, click those links to watch the corresponding clip from last night's CBS television broadcast live from Los Angeles' Staples Center).  In that sense, the Grammys did not disappoint.  Which is to say The Grammys were as geared at Monday-morning-after sales as expected. With that in mind, below is a round-up of some of last night's most-talented nominees that nonetheless lost. 
1) Tame Impala, Nine Inch Nails, The National and Neko Case
"Best Alternative Music Album" is not considered a major category.  Though it's close enough to that distinction to have one of the nominees tapped to perform (Nine Inch Nails), it's nonetheless among the 72 awards given out before the television broadcast begins.  Perhaps most telling however is that none of the Alternative Album nominees were up for any other awards (as opposed to the many instances of other categories being filled with nominees that have at least two nominations).  Whereas Black Sabbath for example could snag Best Metal Performance despite loosing Best Rock Song and Best Rock Album, the Alternative noms have only one shot (there's not even a Best Alternative Song category).  And thus, in one swoop four of the most remarkable albums up for an award last night – Lonerism, Hesitation Marks, Trouble Will Find Me and The Worse Things Get – all lost at the hands of Vampire Weekend's chart-topper Modern Vampires of the City.  Only Nine Inch Nails have previous Grammys (Best Metal Performance in both 1993 and 1996).
2) Queens of The Stone Age
Queens of the Stone Age have the good fortune of not being deemed "Alternative," a status that perhaps helped them become one of just two bands to have multiple nominations (the other is Black Sabbath).  Though come award night that mattered little as they lost in all three of their categories: Best Rock Performance (to Imagine Dragons), Best Rock Album (to Led Zeppelin), Best Engineered Album, Non-Classical (to Daft Punk).  Adding to this, CBS also pulled the plug during Queens of The Stone Age's performance with Nine Inch Nails and Dave Grohl.  Trent Reznor was not pleased:
https://twitter.com/trent_reznor/statuses/427674918138826752
The awards were running about 15 minutes late at the start of the evening's finale teaming of Nine Inch Nails, Queens of the Stone Age, Fleetwood Mac's Lindsey Buckingham and Dave Grohl.  NIN's "Copy of A" was played in its entirely, but Queens of the Stone Age's "My God Is the Sun" was cut to the end credits.
3) Jack White, David Bowie, Neil Young
In the Best Rock Performance category David Bowie, Led Zeppelin and the above mentioned Queens of the Stone Age all lost to the crossover smash of the year, Imagine Dragons' "Radioactive."  Led Zeppelin ended up taking Best Rock Album with Celebration Day – not too shabby for a one-off live album released years after the event. Bowie on the other hand lost in both of the categories he was nominated despite the glorious reception his best-selling, surprise comeback record received last year.  Besides Bowie, for the Best Rock Album award Zep beat out Neil Young and Crazy Horse, Black Sabbath, Kings of Leon …and the above mentioned Queens of the Stone Age.  Sabbath won Best Metal Performance but Young and Kings of Leon struck out completely last night.
Then there's Jack White.  Blunderbuss already lost it's three noms last year despite being one of the most acclaimed rock albums of the past couple years.  Its final single "I'm Shakin" was released late enough in 2012 to be eligible for awards last night, giving Jack two more nominations – both of which he lost.
4) The Rolling Stones
Not only did The Rolling Stones' "Doom and Gloom" loose Best Rock Song to Paul McCartney and the living ex-members of Nirvana's "Cut Me Some Slack," they also lost Best Boxed or Special Limited Edition Package to Paul's Wings Over America (Deluxe Edition).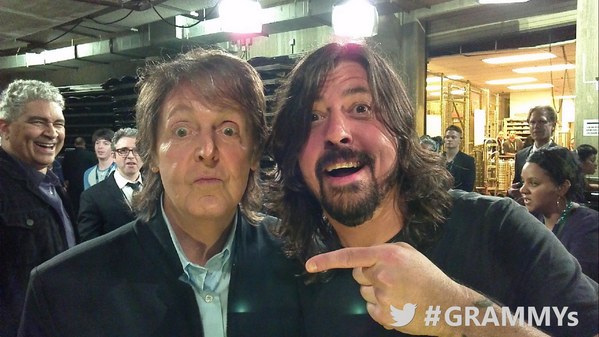 It was a relatively big night for Paul – he reunited with Ringo to play "Queenie Eye" and won three Grammys, in addition to being honored with a Lifetime Achievement Award on Saturday.  Last night was one of just a few times Paul and Ringo have publicly performed together since The Beatles break up (other examples: Starr's 70th birthday in 2010 and a David Lynch benefit in New York City in April 2009).  Does it count as a Beatles reunion if half the band has passed on?
Starr also performed "Photograph" last night backed by a large band, sans Paul.
The Stones did sort of win an award last night – Best Historical Album for the film Charlie Is My Darling – Ireland 1965 – though none of the band members receive an award (rather the trophies go to compilation producers Teri Landi, Andrew Loog Oldham and Steve Rosenthal and  mastering engineer Bob Ludwig).
5) Primus
In addition to Paul McCartney's three Grammys last night he was also connected to two other awards: Butch Vig won Best Compilation Soundtrack for Sound City: Real To Reel (which features McCartney on the Grammy-winning "Cut Me Some Slack") and Paul's own Live Kisses won Best Surround Sound Album (awarded to surround mix engineer Al Schmitt and producer Tommy LiPuma).  The latter beat out, among others, Primus' Sailing the Seas of Cheese (Deluxe Edition) – co-engineered and produced by Les Claypool.
6) Gary Clark Jr.
Though it was a long shot in the first place for Gary to snag Best Rock Song, he did win in his other nominated category: Best Traditional R&B Performance.  Gary's placement on this "losers list" therefore is not about the awards handed out, but his performance slot.  Rather than letting him rip it up in a way befitting his talents, the Grammy folks tagged him onto Keith Urban's "Cop Car" – the award show's attempt at a shred fest, or something….
7) Lang Lang
Jim: When did you start playing the piano?
Lang: At 2 ½ years old.
Jim: How many hours a day did you practice?
Lang: For the first 15 years, 8 hours a day.
Jim: And now?
Lang: 3 hours a day.
Jim: Every day?
Lang: Yes.
So let's see… that means Lang Lang – the most celebrated pianist of his generation – has spent about 55,000 hours practicing and he's not even allowed to perform without being awkwardly tacked onto a poor Metallica performance of their most overrated song.
8 ) Jeff Tweedy
The Wilco frontman put off his main band's album this year to work on great records with Low (The Invisible Way), Mavis Staples (One True Vine), White Denim (Corsicana Lemonade) and Sarah Lee Guthrie & Johnny Irion (Wassaic Way).  But the Grammy voters preferred Pharrell Williams for Producer of the Year, Non-Classical (for his work with Jay-Z, Robin Thicke, Jennifer Hudson, Destiny's Child and Mayer Hawthorne).
9) James Cotton
Cotton Mouth Man is a surprisingly solid and lively album from one of the last remaining founding legends of the blues, James Cotton.  But it lost Best Blues Album to the cliche-ridden Get Up! by Ben Harper With Charlie Musselwhite.
10) Stephen Colbert The Viewers
The CBS camera crew sure liked filming the crowd last night – especially when Steven Tyler, Paul McCartney, Yoko Ono and others busted a move during Daft Punk's "Get Lucky" jam with Stevie Wonder, Pharrell and Nile Rodgers.  But we all know the best dance steps ever stepped to that song are those of Mr. Stephen Colbert:
So although Colbert did pick up a Grammy last night for Best Spoken Word Album – beating fellow nominees Pete Seeger, David Sedaris, Billy Crystal and Carol Burnett – his noticeable absence of screen time during the French duo's sole performance to date in support of Random Access Memories was a great loss.
OK, so maybe Stephen wasn't at the ceremonies.  It doesn't matter.  Come to think of it, maybe it's us, the viewers, that are the biggest losers…