"I do feel that I am starting a new life at 80," Yoko Ono told The Guardian last month, "a second life that will have so many things I didn't have in the first life. I don't know how long I am going to live, but my prediction is that we will have heaven on earth in 2050. When I tell people this, they say, 'Oh, but you won't be there,' and I say, 'Well, who knows?' "
Through next weekend Ono is celebrating her "new life" by curating Meltdown Festival 2013, beginning June 14th in London.  In addition to the artists Yoko signed up to play – Patti Smith, Iggy and The Stooges, two familiar faces from Sonic Youth, Deerhoof – the 10 day fest will feature Yoko in two special bookending performances: Plastic Ono Band kick off night one, then returning on June 23rd to close the festival with the first ever live performance of Double Fantasy.  Earlier that day Yoko is also bringing back "Sky Piece to Jesus Christ" – a John Cage tribute performance work in which orchestra members are wrapped in gauze until they can no longer play (watch Junge Deutsche Philharmonie in Frankfurt revive the work – last played in Yoko's 1965 Carnegie Recital Hall program –  this past February, below).  Other highlights: Thurston Moore, Body/Head (Kim Gordon's experimental duo with Bill Nace), Siouxsie, Cibo Matto's first UK show in 15 years, Mystical Weapons, Peaches, Reggie Watts, Boy George, a talk by Earl Slick (David Bowie and Double Fantasy guitarist), Marianne Faithfull with guitar maverick Bill Frisell, and Julianna Barwick.  Additionally June 15-16 is "Activism Weekend" (the Guerilla Girls, the book launch for Let's Start a Pussy Riot, Peaches talks with Jude Rogers, other lectures, workshops and debates) and June 22-23 is "Future Now Weekend" (Yoko in conversation with Serpentine Gallery curator Hans-Ulrich Obrist, a discussion on digital future, more).
Yoko is also celebrating her "new life" with the release of her Smile app; her Father's Day site mydaddyisbeautiful.com; her new book Acorns (order here); and a female empowering crowdsourced art and awareness project, ARISING – and that's just the last few weeks of projects.  "Yoko Ono and Thurston Moore: An Evening of Musical Improvisation and Film" will be August 10th in Hamburg (tickets and info here).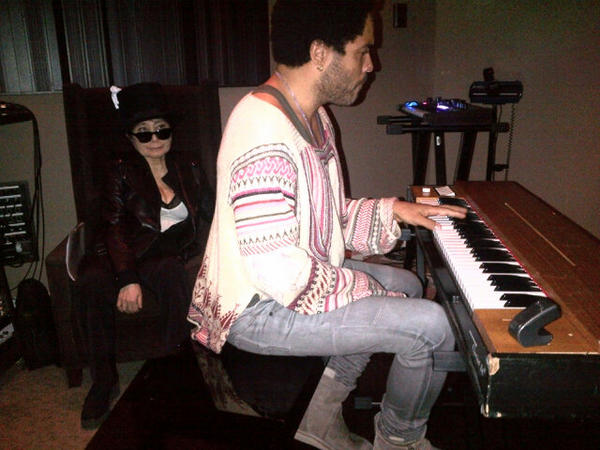 Most important of all though – at least for fans of her music – is the forthcoming Plastic Ono Band album Take Me to the Land of Hell.  The first single "Moonbeams" is available now as a free download with all pre-orders of the album, and can be streamed here.  As first reported by The Future Heart earlier this year, the forthcoming album includes collaborations with Lenny Kravitz (photo above), Wilco's Nels Cline (twitter photo below), Cornelius, Julian Lage and tUnE-yArDs.  The vinyl, CD and digital are all set for U.S. release on September 17th.
The Plastic Ono Band – a landmark avant-folk-proto-punk-blues-rock-n-roll group co-founded in the late '60s by Yoko and John Lennon – was revived in 2009 with Sean Lennon as musical director.  Besides Yoko, the rest of the "conceptual group" is filled by a rotating cast – typically including Cornelius and Cibo Matto's Yuka Honda.  They've released one album since bringing back the "Plastic Ono Band" name and concept, 2009′s acclaimed Between My Head And The Sky.  That was preceded by companion EP Don't Stop Me! and followed with 2011′s collaborative Flaming Lips EP (Yoko also recorded an album in 2011 with sometimes Plastic Ono Band contributors Kim Gordon and Thurston Moore, released last September as Yokokimthurston).  Lenny Kravitz, Nels Cline, tUnE-yArDs and others have all recorded sessions for the new album, confirmed by Sean's social media updates.  For instance: