Sean Lennon is busy. He's already released two albums this year – Mystical Weapons, the self-titled debut LP of his improv group with Deerhoof's Greg Saunier, and the soundtrack to Alter Egos – but there's another two near completion for 2013 release. "I'm still working on this Ghost of a Saber Tooth Tiger record," he revealed to music.cbc.com at the start of the year, referring to the long-awaited LP he's making with Charlotte Kemp Muhl (partly mixed by Dave Fridmann). "We're getting closer to the mix stage so that will be coming out hopefully soon and I'm also finishing – actually I'm pretty much done – with the recording aspect of producing my mom's album. It's the second album I'm producing for… Plastic Ono Band…it's sort of her 80th anniversary album."
In 2009 Yoko revived the Plastic Ono Band – the landmark avant-folk-proto-punk-blues-rock-n-roll group she co-founded in the late '60s with hubbie John Lennon. Like the John-and-Yoko Plastic Ono incarnations this is a "conceptual group" with the motto "We Are Plastic Ono Band" – which is another way of saying the line-ups vary from one show or session to the next. Their comeback shows at Ornette Coleman's Meltdown Festival in June 2009 featured Antony Hegarty. 1969-70 POB members Eric Clapton, Klaus Voormann and Jim Keltner reunited for a special February 2010 show at the Brooklyn Academy of Music celebrating Yoko's birthday (actually, counting the ticketed "dress rehearsal" the day before, there were two shows – though Eric only played the latter). Those shows also included Sonic Youth's Kim Gordon and Thurston Moore, Paul Simon with his son Harper, Gene Ween and others. A few weeks later Deerhoof joined Onos' elastic band at Noisepop, and the group expanded in October 2010 to include Nels Cline, Mike Watt, Iggy Pop, Kim Gordon, Thurston Moore, Perry Farrell, RZA, tUnE-yArDs, and Lady Gaga for John Lennon's 70th birthday celebration concerts. Nels also joined them for two shows with The Flaming Lips at New Year Freakout #5 in Oklahoma.
Cibo Matto's Yuka Honda and members of Cornelius are regulars in the new Plastic Ono incarnations, Sean is musical director, and Yoko is the star…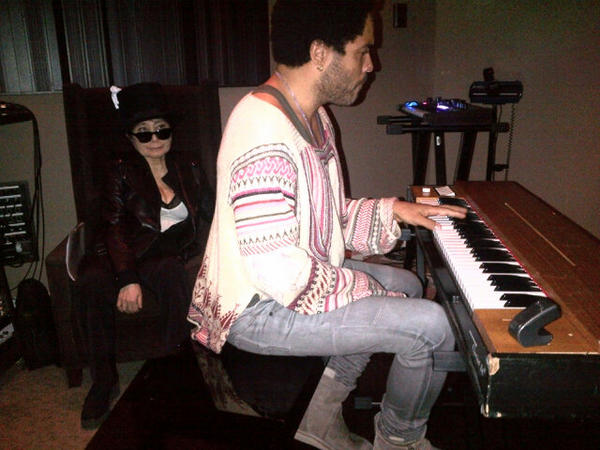 They've released just one album since reviving the "Plastic Ono Band" name and concept, 2009's acclaimed Between My Head And The Sky. That was preceded by companion EP Don't Stop Me! and followed with 2011's collaborative Flaming Lips EP (Yoko also recorded an album in 2011 with Sonic Youth's Kim Gordon and Thurston Moore, released last September as Yokokimthurston). For their second revival record Yoko and Sean have collaborated with Yuko Araki and Keigo Oyamada from Cornelius, Lenny Kravitz (photo by Sean above from last year's sessions), Nels Cline, Julian Lage and tUnE-yArDs – all according to Sean's social media updates:
Yoko got acquainted with tUnE-yArDs a few years ago through Sean, who became a fan via Questlove. tUnE-yArDs' Merrill Garbus joined the Plastic Ono Band for John's 70th birthday shows in 2010 then performed alongside the Plastic Ono Band, Ghost of a Saber Tooth Tiger, and "Consortium Musicum" (Sean with Saunier, Cline and others) at the 2011 SXSW showcase Sean hosted for his label, Chimera Music. On February 12, 2013 tUnE-yArDs' released a cover of Ono's "We're All Water" on a Chimera 10-inch single b/w a remix of Ono's 1973 out-take "Warrior Woman." A benefit for the Rockaway Waterfront Alliance's aid to Hurricane Sandy recovery, the single doubles as a teaser for Yoko's other new album for this year, a follow-up to 2007's Yes, I'm A Witch – a compilation of Ono's songs reworked by artists ranging from Peaches and Le Tigre to Jason Pierce (Spiritualized) and (Yoko's personal favorite on the release) The Flaming Lips.
"Getting familiar with Yoko's vast body of work has been a true education for me," Garbus says in the single's press release. "When it came time to choose one of Yoko's songs to cover, and then later one to remix, I had the opportunity to delve into the ground-breaking, punk-before-punk, radical, brave and brilliant work she had done, album after album. More musicians should learn Yoko's history as a songwriter and performer– she's been light years ahead of us for decades."
https://twitter.com/MrBlackFrancis/status/301570791772917760
As for Yoko's Sometime in New York City 1972 original version, it's being featured in a new "Water Music" exhibit celebrating Ono's 80th birthday. The experimental display at Athen's Georgia Museum of Art includes a listening station of music inspired by water and the words of "We're All Water" printed on cardstock around a small box in one of the exhibit's two glass cases.
There's plenty of other festivities for Yoko's octogenarian birthday as well:
"Hold Me" – Ono's latest single, a dance mix co-written by Ono and Dave Audé
Half-A-Wind Show – a 200 piece art exhibit opening at the Schirn Kuntshalle in Frankfurt, Germany and then touring the world
Yoko Ono: An Invisible Flower – a book of drawings and one-line poems
The Infinite Universe at Dawn – "a new, signed, limited edition book from Yoko"
Yoko Ono: Collector of Skies – a book by by Nell Beram and Carolyn Boriss-Krimsky
The Plastic Ono Band performing at Berlin's Volksbühne with Robyn Hitchcock and Rufus Wainwright, Peaches, Michael Stipe, and others.
That's in addition to the two aforementioned Ono records due this year, and her 1968-1985 albums being reissued. The Flaming Lips also recorded "Happy Birthday" for Yoko (is that why Wayne's off to Berlin: to personally present it to her?). The brand new Lips track was mixed on the John Lennon Educational Bus at the Lips-associated Academy of Contemporary Music at the University of Central Oklahoma. Listen below.