Record Store Day has rapidly grown since 2007 from being simply a celebration of independent shops to a much anticipated annual tradition for music fans and vinyl collectors every April (and a crucial day for indie businesses). In 2010 a second annual event was inaugurated on Black Friday. At first a much smaller event than its April parent, Black Friday has had a surge in its volume of releases the past few years – which brings us to 2015's list. Though the full official list won't be released until later this month, numerous items have been confirmed either by the artist, label or distributor. Among them: releases by Beck, Nirvana, Spoon, Ween, Kinks, Zombies, Zappa, Hendrix, Uncle Tupelo, Ty Segall, Nine Inch Nails, Ariel Pink, Joan Jett, Big Star, Lush, Jeff Beck, The Sonics and many more. Details on the most anticipated of these are below, followed by a longer (albeit incomplete) list of Black Friday releases (skip to the Black Friday release list by clicking here). Check back over the next couple weeks for additions to the list as they become known and follow twitter.com/TheFutureHeart and facebook.com/TheFutureHeart for updates.
Who more apt than Ariel Pink to release a pink 7″ shaped like a ninja star? He'll do just that this Black Friday with an indie-retail exclusive (meaning it will only be sold at independent shops) limited to just 800 copies pairing "I Need A Minute" and a collaboration with Dev Hynes. Above stream "I Need A Minute," the closing song from the film Heaven Knows What.
Beck issued his recent smash "Dreams" on 12" black vinyl in August. Come this Black Friday they'll be a new, indie-exclusive "Dreams" 12″, this one on blue vinyl with a "puffy sleeve" and "embossed jacket." The earlier released EP paired the original hit recording with instrumental and a capella versions of the song. It has yet to be revealed if the same tracks are on the Black Friday 12″, or if it's a full out new EP. Check back for more details as they become known.
The soundtrack to 2003 Civil War drama Cold Mountain (Jude Law, Nicole Kidman, Renée Zellweger) is among the more ambitious soundtracks of recent memory. Producer T Bone Burnett worked for over a year on the project, collaborating with scholar Tim Eriksen, co-writing "Scarlet Tide" with Elvis Costello, and commissioning Sting to write "You Will Be My Ain True Love" (both songs were performed by Alison Krauss, and both were subsequently nominated for the Academy Award for Best Original Song and the Grammy Award for Best Song Written for Visual Media). The soundtrack features five tracks by Jack White (who was also cast in the film as a mandolin player named Georgia). This Black Friday the soundtrack will be issued on vinyl for the first time as a double LP on 180 gram.

It wouldn't be Record Store Day or Black Friday without some goodies from our fwends The Flaming Lips. This year sees the release of 3 CD – or numbered, color vinyl on 5 LP – set Heady Nuggs: 20 Years After Clouds Taste Metallic 1994-1997. The second and final album by the Lips classic mid-'90s line-up (which included Ronald Jones), this new box edition of Clouds Taste Metallic includes 1994 EP Due To High Expectations The Flaming Lips Are Providing Needles For Your Balloons and a collection of other mid-'90s odds and sods ("It Was A Very Good Year," "Sun Arise" and "Nobody Told Me" from Sinatra, Alice Cooper and John Lennon tribute albums; T-Rex's "Ballrooms of Mars;" "Hot Day" from the SubUrbia soundtrack; "Magician Vs The Headache" and "She Don't Use Jelly" live at KJ103) on CD 2; and the Lips' May 10, 1996 Seattle show Moe's on CD 3. The latter, long loved in bootlegged form (especially for its dynamic duo finale of the rarely performed album track classics "Love Yer Brain" and "Placebo Headwound"), marks the first ever official release of any mid-'90s concert by The Flaming Lips. There's several bundle options for the box including various mid-'90s posters and T-shirts, video updates from the band, a digital download of the 1996 concert and a record sleeve autographed by Wayne Coyne (details at flaminglips.warnerbrosrecords.com). Also note: it has yet to be confirmed whether this is an official RSD Black Friday release, or just a deluxe box released on Black Friday.
But wait – there's more…
Yoko Ono and The Flaming Lips' remake of Plastic Ono Band Christmas standard "Happy Xmas (War Is Over)" – originally released digitally last year – is out on vinyl this Black Friday as a 7″ on Sean Lennon's Chimera imprint.
In somewhat related news, Lips drummer Matt Duckworth's other band Stardeath and White Dwarfs (fronted by Dennis Coyne, Wayne's nephew) also has a Black Friday release, a collaboration with Casket Girls titled "What Keeps You Up At Night." Casket Girls is one of many projects by Black Moth Super Rainbow guitarist Ryan Graveface (also of Dreamend, etc). This indie-retail exclusive 12″ features a B-side etching and will be issues by Ryan's label, Graveface Records.
There's a Nirvana live LP curiously listed by distributors for Black Friday 2015 as Pat O'Brian Pavillion, Del Mar, CA, December 26th, 1991. The reason this is curious: there's no record of Nirvana playing a show on the historically significant day after Christmas '91 (the date the dissolution of the Soviet Union was formally enacted), though Nirvana did play a show at the same venue on December 28th that is well-known from bootlegs of its FM broadcast and from being one of the gigs featured on 1996 live comp From the Muddy Banks of the Wishkah. It seems a typo in the distributor list is the explanation for this curiosity. Additionally, as with several other items, it is unclear at this time whether this is an official Record Store Day Black Friday release, or just a release on Black Friday. Check back: we'll know for sure about the typo and RSD status within the next couple weeks. In the meantime, here's that FM broadcast: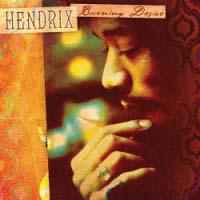 Studio jams and rough takes that Jimi Hendrix recorded at his November 7, 1969 and January 7 and 23, 1970 sessions with Buddy Miles and Billy Cox (aka Band of Gypsys) were compiled by Dagger Records and released in 2006 as Burning Desire. This compilation will be released on vinyl for the first time as an indie-retail exclusive, 150 gram double LP on Black Friday. The first 5000 will be numbered.
Since 1999 the Vitamin String Quartet has released hundreds of albums of their arrangements of music by Hendrix, The Beatles, Muse, Led Zeppelin, Lady Gaga, The Flaming Lips, Black Sabbath, The Smashing Pumpkins, Iron Maiden, the music of Star Wars and much more. Most of their albums are "best of" tributes, though in recent years they've increasingly remade entire classic albums as string quartets, including Weezer's Pinkerton, Pink Floyd's Dark Side Of The Moon, Radiohead's In Rainbows and Green Day's American Idiot. Modest Mouse's The Moon and Antarctica is the latest classic album to get the full cover treatment: 1,500 copies on 180-gram vinyl will be released Black Friday.
Deerhoof release new vinyl live album and video download Fever 121614 on Black Friday 2015 ("maniacally smiling" included). Above watch "We Do Parties" live in Tokyo last December 16th from the set. The band stated:
"Deerhoof are happy to announce the release of Fever 121614. With Satomi's anime superhero alter ego in full swing, like a pint­-size dancing drill sergeant; with Ed's neon pink guitar ablaze; with Greg maniacally smiling, miming, and cajoling walls of racket from the ruins of his drums; with John hacking, mumbling incoherently, and appearing generally possessed by some unknowable and truly unsavory force."
Spoon's cover of The Cramps' "TV Set" from the recent Poltergeist soundtrack will be out on 10" colored vinyl. This indie-exclusive will include an unused Spoon song for Poltergeist on the flip.
2006's Live Trax Volume 5 by Dave Matthews Band will also be released on vinyl this Black Friday. Recorded August 23, 1995 at Meadow Brook Music Festival in Rochester Hills, MI during the Under the Table and Dreaming tour, this show captures the band as they ascended to being the most popular live band of their generation. 2000 copies of this 4 LP vinyl set will be pressed on 180 gram pink vinyl.
The Zombies The BBC Radio Sessions compiles the complete recordings of the band for the broadcasting company for the first time, including previously unissued interviews and songs.
Nine Inch Nails' Halo I-IV (LP + 3×12″) box pairs Pretty Hate Machine LP with three 12″: "Down In It", "Head Like A Hole" and "Sin." All are pressed on 180 gram from the original masters.
The music, life and legacy of legendary jazz fusion bass guitarist Jaco Pastorius gets the full length documentary treatment in Jaco, a new film produced by Metallica bassist Robert Trujillo. Both the DVD/Blu-Ray release of the film and Jaco: Original Soundtrack are due November 27th. The official description reads:
"Jaco" chronicles the tale of Pastorius, a "self-taught, larger-than-life musician who single-handedly changed the course of modern music by redefining the sound and the role of the electric bass guitar," according to a statement. The movie, which Paul Marchand and Stephen Kijak directed, features appearances by Red Hot Chili Peppers' Flea, Rush's Geddy Lee, Carlos Santana, Sting and others.
Among the re-issues out Black Friday are David Bowie's Earthling on translucent green vinyl and Outside on white vinyl. Both are 180-gram vinyl, and apparently have tri-fold covers. Paul McCartney will issue a 12″ EP for his collaboration with Michael Jackson, "Say Say Say." Queen will release a 40th Anniversary "Bohemian Rhapsody" 12" with the original artwork. Faith No More's 1985 debut album We Care A Lot and Green Day's American Idiot will be reissued as well, though details are scant at this point.
Genre defining garage rockers The Sonics will re-issue 1965 debut Here Are the Sonics, '66 follow-up Boom, and assorted rarities, alternate takes and live performances as a 3 LP set called Fifty. The box – which commemorates their half century anniversary – includes a 36-page booklet documenting the oral history of the band, an 18 x 24-inch poster, and a download card.
Black Friday 2015 Release List
Check back for additions as they become known. Follow twitter.com/TheFutureHeart and facebook.com/TheFutureHeart for updates.
Adams, Terry with NRBQ
Talk Thelonious (2 x 12″/gatefold)
EUCLID 12″EP
Afghan Whigs
1965 LP (180 Gram, Blue Vinyl)
ORG Music LP
Alan Parsons Project
Turn Of A Friendly Card: The Singles (Green Vinyl)
LEGACY/ ARISTA 7″
Ariel Pink
Heaven Knows (pink ninja star shaped 7″)
MVD 7″
Atreyu
So Others May Live
SPINEFARM 7″
Banks
Beggin' For Thread
HARVEST 12″EP
Beck
Dreams (blue vinyl)
CAPITOL 12″ EP
Beck, Jeff
Performing This Week … Live At Ronnie Scott's (3LP)
EAGLE VISION LP
Big Star
Jesus Christ (colored vinyl with download)
OMNIVORE 10"
Bridges, Leon
Louisiana Sun (From The Coming Home Sessions)
COLUMBIA 10"
Case, Neko
Furnace Room Lullaby
ANTI LP
Case, Neko
Blacklisted
ANTI CD and LP
Coheed And Cambria
Color Before The Sun – Official Band Demos LP
300 ENTERTAINMENT LP
Damnation A.D.
Kingdom Of Lost Souls (White Vinyl LP)
REVELATIONS RECORDS LP
Dictators
Next Big Thing EP – Andrew W.K. 2015 Remixes & studio Outtakes
REAL GONE MUSIC 10″
Eagles Of Death Metal
Zipper Down
T-BOY Cassette
Easy-E
Merry Muthafuckin' Xmas
UNIVERSAL 7″
Faith No More
We Care A Lot
MANIFESTO LP
The Flaming Lips
Heady Nuggs: 20 Years After Clouds Taste Metallic 1994-1997
Warner Bros. Box (3 CD or 5 LP)
Ono, Yoko & The Flaming Lips
Happy Xmas (War Is Over)
CHIMERA 7″
Florence & The Machine
What Kind Of Man/As Fast As I Could
ISLAND 12″ EP
Fuller, Curtis
Blues-ette
SAVOY LP
Get Up Kids
Red Letter Day
DOGHOUSE 10″
Glitch Mob
Love Death Immortality (2LP+10″)
SHOOT TO KILL LP
Green Day
American Idiot
Reprise Records LP
Harper, Ben
Fight For Your Mind (2LP red & green vinyl)
VIRGIN LP
Hendrix, Jimi
Burning Desire (2LP 150 gram vinyl)
Legacy LP
Holcomb, Roscoe
San Diego State Folk Festival 1972
TOMPKINS SQUARE LP
Hooker, John Lee
Two Side Of John Lee Hooker
CONCORD LP
Ikebe Shakedown
Hard Steppin' (gold vinyl reissue)
COLEMINE 7″
Jett, Joan
First Sessions
BLACKHEART LP
King, B.B.
Thrill Is Gone
GEFFEN 10″
Kinks
Kwyet Kinks
BMG 7″
Kinks
Dedicated Kinks
BMG 7″
Lee, Ben
Awake Is The New Sleep (2LP on 180 Gram with 6 unreleased bonus tracks)
NEW WEST LP
Lewis, Jerry Lee
Jerry Lew Lewis (coloured vinyl)
ORG MUSIC LP
Lush
Ciao! Best Of 2LP (Red Vinyl)
4AD LP
Lynyrd Skynyrd
Sweet Home Alabama: Live At Rockplast (2LP)
EAGLE VISION LP
Mad Parade
God Bless America (colored vinyl)
GUTTERWAIL LP
Marley, Bob
Interviews – So Much Things To Say
TUFF GONG LP
Matthews, Dave Band
Live Trax Vol. 5 Vinyl Box (180g 4LP on Pink Vinyl)
BAMA RAGS Box
Mccartney, Paul
Say Say Say (w Michael Jackson)
HEAR MUSIC 12″ EP
Meatmen
Pope on a Rope (transparent red vinyl)
SELF DESTRUCTO LP
Megadeth
Threat Is Real/Foreign Policy
CAPITOL 12″EP
Mellencamp, John
Scarecrow
ISLAND LP
Mighty Mighty Bosstones
Live at the Middle East (2LP; 1900 on Blue Vinyl, 100 random Red/Green Split Colored Vinyl)
ASBESTOS RECORDS LP
Nine Inch Nails
Halo I-IV (LP+3×12″)
CONCORD LP
Nirvana
Pat O'Brian Pavillion, Del Mar, CA, December 26th, 1991 – FM Broadcast
EGG RAID LP
Otis, Shuggie
Ice Cream Party
CLEOPATRA 7″
Parker, Charlie
Charlie Parker Story
SAVOY LP
Parker, Charlie & Dizzy Gillespie
Jazz At Massey Hall (3x10in)
CONCORD 10″
Pastorius, Jaco
Jaco (2DVD+CD) J
CONVEXE ENTERTAINMENT DVD
Paul, Les & Mary Ford
Christmas Cheer (coloured vinyl)
CAPITOL 10″
Perkins, Carl
Dance Album Of Carl Perkins LP (Colored Vinyl)
ORG MUSIC LP
Pharcyde
Runnin' / Emerald Butterfly (blue vinyl)
BICYCLE MUSIC COMPANY 7″
Pujol
Kisses (incl. fold-out poster)
BARTERTOWN CO-OP 12″EP
Queen
Bohemian Rhapsody
HOLLYWOOD 12″EP
Rancid
And Out Come the Wolves (2015 remaster)
EPITAPH LP
Revolutionaries
Revolutionaries Sounds V.2
DEEPER KNOWLEDGE LP
Robinson, Rich
Oh! Sweet Nuthin'
EAGLE VISION 7″
Rockabye Baby
Lullaby Renditions of Fleetwood Mac (blue marbled vinyl)
ROCKABYE BABY MUSIC LP
Ronstadt, Linda
Silk Purse
VARESE LP
Royce Da 5'9/Skillz/Diamond D
One for the Money (green vinyl)
COLEMINE 7″
Rundgren, Todd & Utopia
Live at the Old Waldorf Aug.1978 San Francisco (2CD)
ESOTERIC CD
Segall, Ty
Ty Rex
GONER CD and LP (Incl. Download)
Stardeath And White Dwarfs + Casket Girls
What Keeps You Up At Night
GRAVEFACE RECORDS 12″
The Sonics
Fifty (3LP/Poster/Booklet/Ltd)
LIGHT IN THE ATTIC LP
Spoon
TV Set (Colored Vinyl)
CONCORD 10″
Strypes
Get Into It
MERCURY 7″
Suicidal Tendencies
Controlled by Hatred..(coloured vinyl)
ORG MUSIC LP
Suicide File
Twilight (Ltd/Gray vinyl)
INDECISION LP
Suicide File
Some Mistakes You Never Stop (Ltd/Clear)
INDECISION LP
Taylor, Chip & John Prine
16 Angels Dancing 'Cross the Moon EP
TRAIN WRECK 10″
Trespassers William
Different Stars 2LP
NETWORK LP
Turning Point
1988-1991 (2LP+7″/yellow/gatefold/MP3)
THINK FAST! LP
Uncle Tupelo
March 16-20, 1992
MUSIC ON CD CD
Unit Pride
Then & Now (LP+CD/Ltd/White vinyl)
MANKIND LP
Various Artists
Our Impact Will Be Felt: Tribute To Sick Of It All
THINK FAST! LP
Various Artists
To Love The Bee Gees (Standard Edition with fold-out poster and 2CD Deluxe Black Friday Edition)
MEDIA CD
Various Artists
Brunswick Soul Box (10 x 7″ + splimats)
BRUNSWICK BOX
Various Artists
Judgment Night (Soundtrack)
ASBESTOS LP
Various Artists
Cold Mountain (2LP)
ORG MUSIC LP
Various Artists
True Detective (2LP)
CAPITOL LP
Various Artists
Love & Mercy (coloured vinyl)
CAPITOL LP
Various Artists
High Fidelity (2LP orange vinyl)
WALT DISNEY LP
Various Artists
Color Of Noise (2LP)
MVD LP
Vitamin String Quartet
Modest Mouse: The Moon & Antarctica (180 gram)
VITAMIN LP
Wareham, Dean and Britta Philips
Mistress America (Soundtrack)
MILAN LP
Watt, Mike
Back In the Microwave (with the Secondmen & Chronics)
ORG MUSIC 7″
Ween
POD (2LP)
MVD LP
Zappa, Frank
200 Motels
UME 7″
Zappa, Frank
Feeding The Monkies At Ma Maison (colored vinyl)
ZAPPA RECORDS 12″ EP
Zombies
Live At The BBC (2LP)
VARESE LP