Barnes & Noble's annual day celebrating vinyl records will not only return in 2017, it will be expanded to an entire weekend: November 17 through 19th. The book seller and retail store announced full details in a press release today:
"Bringing music lovers of all ages together, Vinyl Weekend will take place at all Barnes & Noble stores nationwide and will feature exclusive albums, signed vinyl editions, a special price on the Crosley turntable bundle, and discounts on all vinyl records. Select stores will also host live performances and special appearances and events throughout the weekend."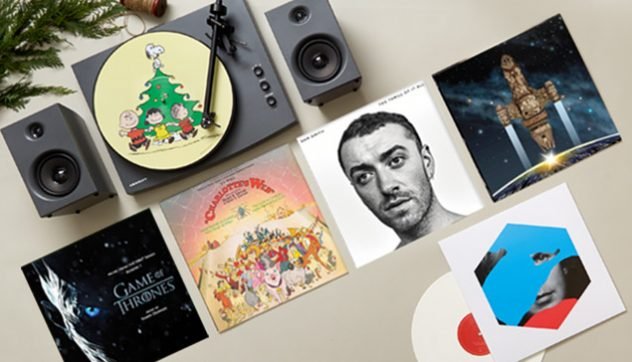 Here's exactly what we can expect from Vinyl Weekend:
All vinyl releases will be at least 10% off throughout Vinyl Weekend, with some items marked as much as 30% off
Crosley is hosting a sweepstakes for one winner per store to win a Crosley Star Wars turntable and Planet Rock prize pack valued at $102.94
Autographed copies of Dan Auerbach's Waiting on a Song, the cast recording of Spongebob Squarepants the Musical (featuring new songs written by T.I., Aerosmith, the Flaming Lips, Plain White T's, Lady Antebellum, and more), Amy Grant's Tennessee Christmas and Lee Ann Womack's You Don't Hear This Anymore
Best of the Grateful Dead Vol 2 (1977-1989) Barnes & Noble exclusive on translucent red vinyl
Robert Plant's new album Carry Fire Barnes & Noble exclusive on gold vinyl
Game of Thrones Season 7 Barnes & Noble exclusive "fire" edition on orange and black swirl vinyl
Serenity Soundtrack Barnes & Noble exclusive with custom cover art
Charlotte's Web Soundtrack Barnes & Noble exclusive on pink vinyl with black webbing
A Pentatonix Christmas Barnes & Noble exclusive
Piano Guys' Christmas Together Barnes & Noble exclusive
(Beck's Colors with Barnes & Noble exclusive cover on white vinyl is also listed and pictured on B&N's official blog entry on Vinyl Weekend – also shown above – though that was released last month. Perhaps it will be significantly discounted? Its inclusion is ambiguous.)
Select stores will offer a free Crosley tote with the purchase of any 2 LPs or any Crosley item
Crosley is also offering free "Vinyl Weekend" stickers and an assortment of poster giveaways
B&N's exclusive Crosley Turntable bundle will be marked down to $129.99 (from $199.95).
Barnes & Noble Members can apply their 10% discount on in-store purchases on top of the other discounts.
Additionally Barnes & Noble stores in New York, L.A. and Nashville will host free appearances by the following stars:
Keyon Harrold on Friday November 17th at Barnes & Noble Tribeca, New York City
Steve Martin on Saturday, November 18th at Barnes & Noble Upper East Side, New York City
Jane Birkin on Saturday, November 18th at Barnes & Noble Fifth Avenue, New York City
La La Land Composer: Justin Hurwitz on Saturday, November 18th at Barnes & Noble The Grove, Los Angeles, CA
Margo Price on Sunday, November 19th at Barnes & Noble Nashville, TN