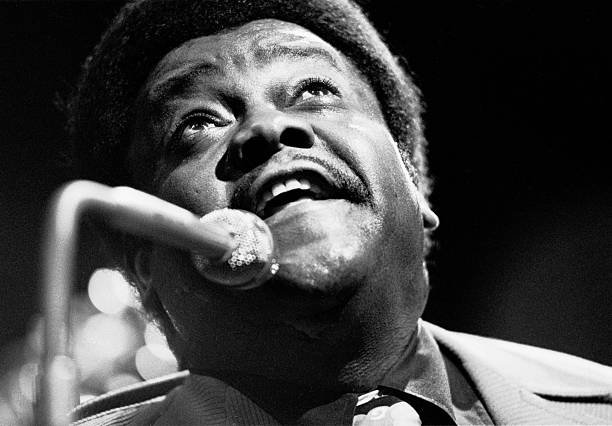 The Jefferson Parish coroner's office has confirmed Antoine "Fats" Domino Jr. died October 24, 2017 at his home in Harvey, Louisiana at age 89 (click to read the full AP report). Born February 26, 1928, Domino was among the most popular and influential musicians of his generation. An official statement from his children has been posted on his website.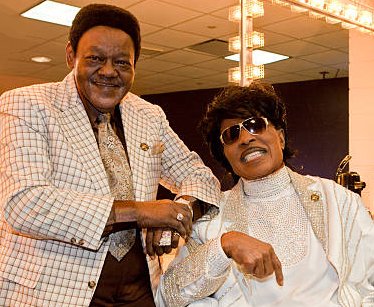 Little Richard, one of the many musicians Fats influenced, reacted to his passing, telling Billboard, "He's the greatest entertainer that I ever known. Black, white, red, brown or yellow, he's a just good guy and I thank God for giving me the opportunity to know him. I love him."
Paul McCartney also promptly responded, posting on his website:
"Rest in peace Fats Domino, the great rock 'n' roll pianist and singer who thrilled us in our early days in Liverpool. His hit records like 'Ain't That A Shame', 'Blueberry Hill', 'I'm In Love Again' and many others introduced us to the sounds of New Orleans rock 'n' roll. We were excited to meet Fats once in his home town of New Orleans. He was wearing a huge star spangled diamond encrusted watch which was our first encounter with bling! His voice, piano playing and musical style was a huge influence on us and his appearance in the film 'The Girl Can't Help It' was truly magnificent. As one of my favourite rock 'n' roll singers, I will remember him fondly and always think of him with that twinkle in his eye. I read that he had eight children. He himself was named Antoine. His kids were named Antoine III, Anatole, Andre, Antonio, Antoinette, Andrea, Anola and Adonica. Now that is pure Fats!"
Many other musicians – from '50s legends Jerry Lee Lewis and Duane Eddy to The Beatles and Brian Wilson, jazz greats Dave Holland and Christian McBride, fellow New Orleans icons Dr. John and Aaron Neville and pop stars Coldplay – have posted remembrances on social media, collected at the bottom of this post.
Of the many obituaries published by various sites, Tom Piazza and Stephen Thomas Erlewine's particular stand-out. Piazza – author of Why New Orleans Matter – recalls "Playing Boogie-Woogie with Fats Domino" in his piece for The Paris Review. "When he was playing, he was the music, he was all of the music," Piazza writes. "He looked as if he was having at least as much fun as the audience. He radiated commitment to the hilt, humor, total musicianship at the piano, and some other unquantifiable thing, some alchemy that made you want to continue to live." Erlewine's piece, published by Billboard, makes the case for Fats as "Rock n' Roll's Crucial, Underappreciated Architect:"
"He didn't perform tricks at the keyboard and he didn't rush the tempo, so he didn't command attention. He embodied ease, a quality that contradicts the conventional notions of what is rock n' roll.
By lore, rock n' roll is supposed to be wild rebellion and Fats Domino wasn't wild or overtly rebellious. Over the decades, this light touch would lead to the perception that Domino offered nothing but good cheer, but at the outset of his career at the start of the '50s, there were few musicians recording music as fearless as Fats. Take "The Fat Man," the 1949 single which isn't only his debut single but, by many measures, the first recording that could be called rock n' roll. Unlike a couple of earlier contenders — Arthur "Big Boy" Crudup's 1946 blues boogie "That's All Right," Roy Brown's jumping "Good Rockin' Tonight" — "The Fat Man" feels like rock n' roll because it discards its blues roots and emphasizes and focuses on its barreling rhythm."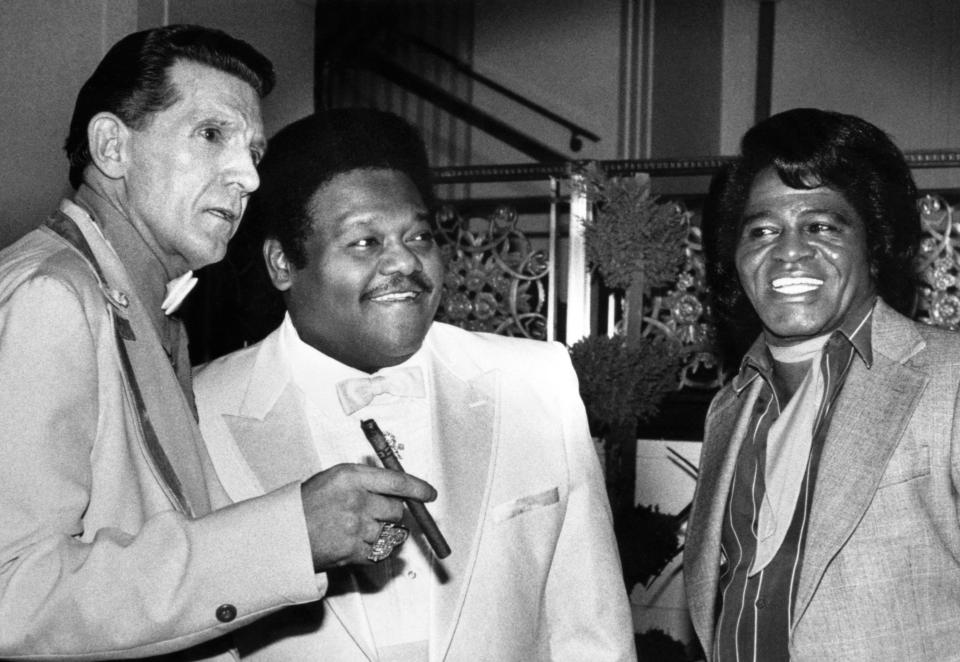 Fats' impact on music, especially in the 1950s, and his legacy ever since, is vast.
– Between 1950 and 1963, Fats appeared on Billboard's pop chart 63 times and its R&B chart 59 times.
– That's more hit records than Chuck Berry, Little Richard and Buddy Holly…
. . . combined!
– Fats sold over 60 million records before 1962…
. . . and more than 65 million records overall.
– At various points in the 1950s he was as popular as Elvis Presley and over the course of the decade sold more records than any musician besides Presley.
– Music historian Craig Philo famously recalled, "a reporter referred to Elvis as the 'King of Rock 'n' Roll' at the press conference following his 1969 Las Vegas opening, [Elvis] he rejected the title, as he always did, calling attention to the presence in the room of his friend Fats Domino, 'one of my influences from way back.'" According to Presley, Fats was the "King."
– His influence on other 1950's rockers, particularly Little Richard, is immeasurable.
– John Lennon had particularly fond memories of 'Ain't That A Shame' – the first rock 'n' roll song he ever learned – and recorded it for his 1975 album Rock n Roll. John also claimed "there wouldn't have been a Beatles without Fats Domino." At the very least, there would have been no "Lady Madonna." Paul explained, "'Lady Madonna' was me sitting down at the piano trying to write a bluesy boogie-woogie thing … It reminded me of Fats Domino for some reason, so I started singing a Fats Domino impression. It took my other voice to a very odd place."
– Each of The Beatles' individual introductions to rock n' roll would have been different if not for Fats: "I'm In Love Again" is the first rock song Harrison ever heard; "Ain't That A Shame" is the first song Lennon played and he had a pivotal early influence on the others as well. All four covered Fats' songs throughout the duration of their lives and Fats in turn covered "Lady Madonna," "Lovely Rita" and "Everybody's Got Something To Hide Except For Me And My Monkey."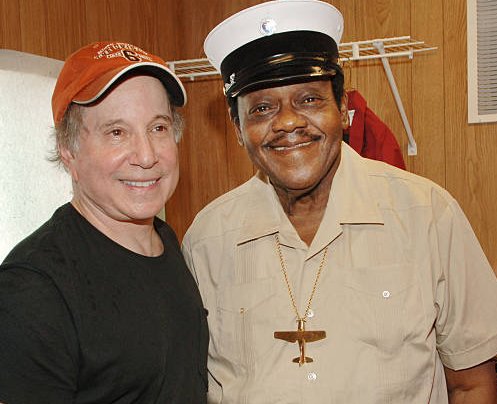 – Four of Fats' songs are in the Grammy Hall of Fame for their significance in music history: "Blueberry Hill" (entered in 1987), "Ain't It A Shame" (in 2002), "Walking to New Orleans (2011), and "The Fat Man" (2016).
– Fats was inducted in 1986 with the first class into the Rock and Roll Hall of Fame, inducted by one of his many admirers, Billy Joel: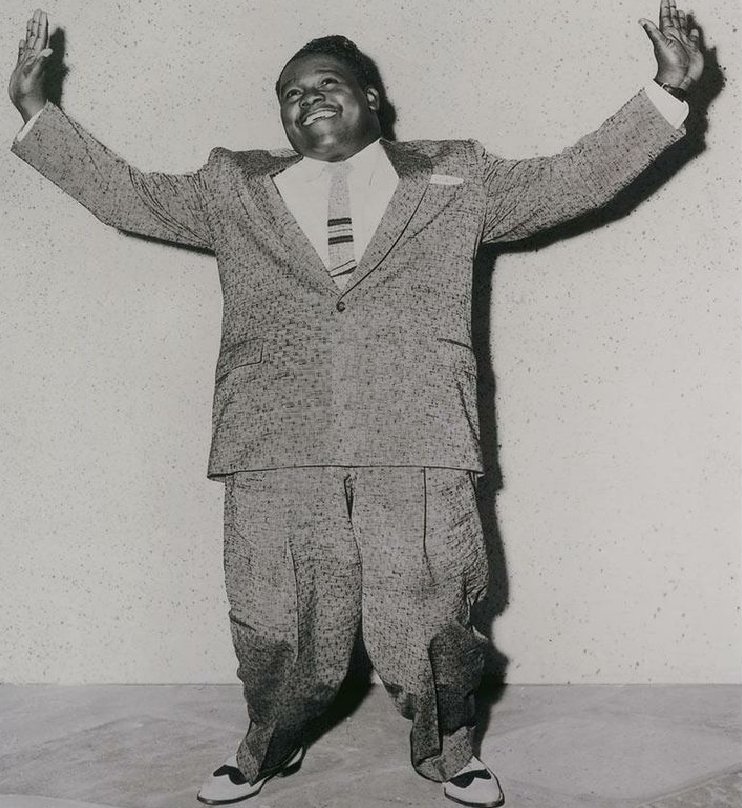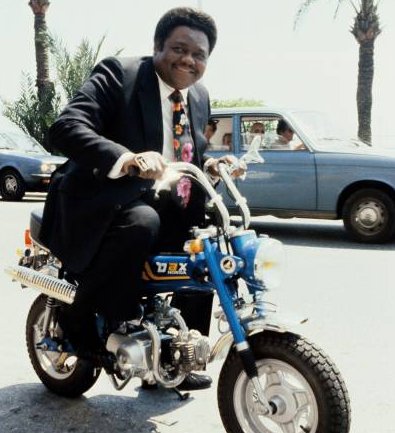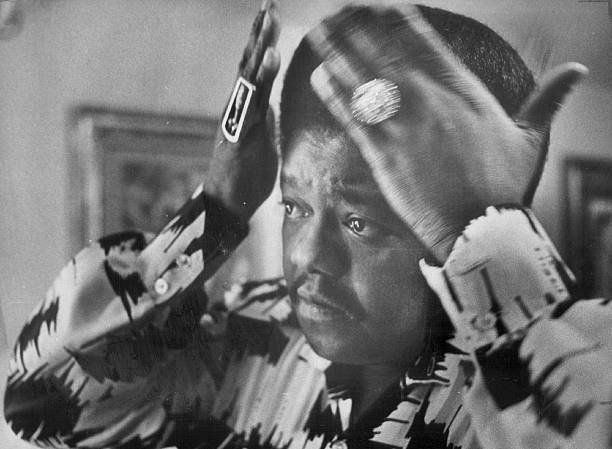 – 1949's 'The Fat Man' sold over 65 million copies, making Billboard's pop chart 63 times between 1950 and 1963, and is often referred to as the "first rock n' roll record" (needless to say a contentious title, but at the very least one of the most cited contenders in this much debated topic).
– Fats was presented with a Grammy Lifetime Achievement Award in 1987.
– In addition to inspiring countless American and British rock and R&B musicians, Domino's immense popularity in Jamaica influenced ska and reggae pioneers.
– As news spread of Fats passing, a wide range of fellow musicians took to social media in remembrance: