Earlier this month the surviving members of The Zombies reunited to play their classic album Odessey And Oracle in its entirety at every show of a tour that is the first by the classic line-up behind the LP – Colin Blunstone, Rod Argent, Paul Atkinson, Chris White and Hugh Grundy – since they disbanded nearly a half century ago in December 1967, before the album was even released. The tour, which kicked off the weekend before last, is currently underway in the Northeast and will make its way across the United States to the West Coast over the next month, with a few stops in Canada along the way and additional dates elsewhere in the world to follow.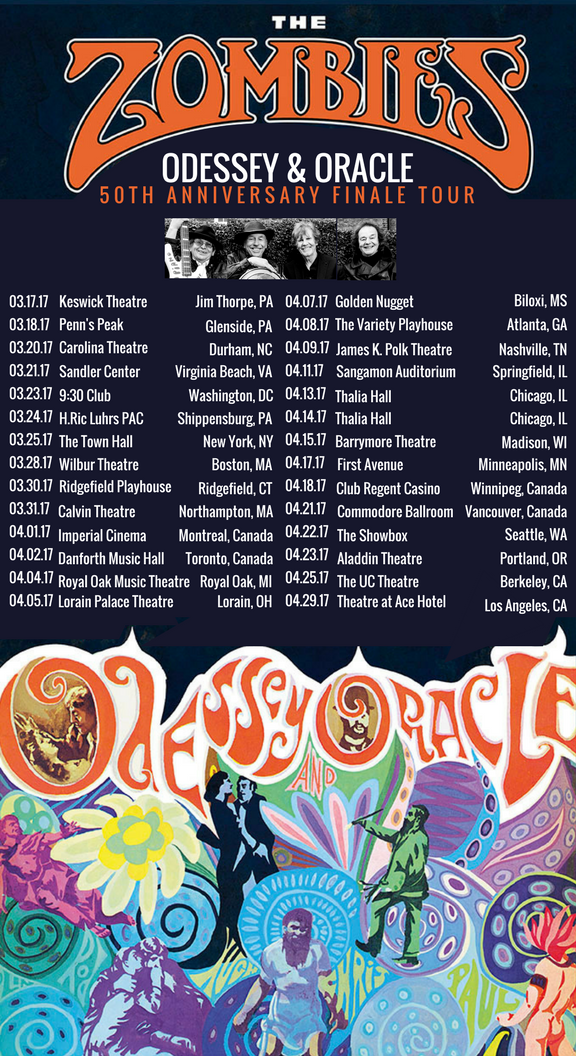 Starting in the '90s various configurations resurrected the name – touring and releasing new music as the Zombies – though all five mid-'60s members played together just twice more: a 1997 show celebrating the release of their "Zombie Heaven" box set; and a 2004 benefit for the National Recording Academy at which Atkinson received a President's Merit Award. Atkinson died less than three months later. That same year Argent, Blunstone and White released a new album under the Zombies moniker, As Far as I Can See… and since then Blunstone and Argent have toured and released two more albums as The Zombies with newer members. Chris White and Hugh Grundy return to mark the 50th anniversary of Odessey And Oracle, but nothing more is promised beyond that. The current tour is thus both a reunion and a finale. This is your chance to see "the original members reunite for the final time," as the tour trailer above puts it.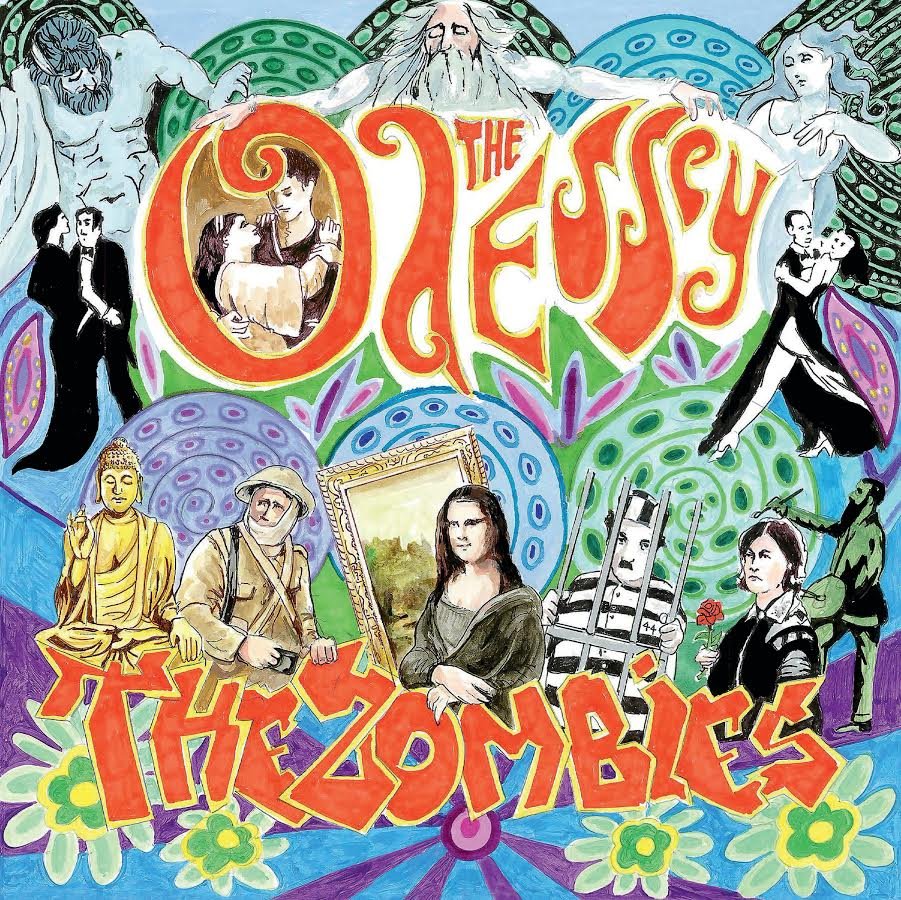 Also commemorating the 50th anniversary of Odessey And Oracle: a coffee table book (pictured right) out March 30th about the making of the album featuring handwritten lyrics and artwork from Terry Quirk, the artist behind its iconic psychedelic cover.
The Zombies also have three 7″ singles coming out April 22nd for Record Store Day. First up, ahead of an upcoming 50th anniversary deluxe CD of Odessey And Oracle, a newly rediscovered, never before released version of "A Rose For Emily" with cello accompaniment is to be issued on an exclusive 7″ before it becomes available on the deluxe package. With the original version of "This Will Be Our Year" on the flip this 7″ will be pressed on pink vinyl in a limited edition of 2200 only available stateside. Both sides have recently been discovered anew by a younger generation of fans: "Rose" is played at the end of every episode of the staggeringly popular investigative journalism podcast S-Town and "This Will Be Our Year" was heard in Starbucks' 2016 holiday campaign.
The Zombies will also release their 1965 recording of "I Want You Back" on Record Store Day with a 50th anniversary 2015 recording of the same song by the band on the flip. 1250 copies will be available in both the US and overseas.
Finally there's Broadcast 66 EP, also on 7″ (pictured above). It features "Gotta Get A Hold Of Myself" from their 1966 appearance on the Rod Skelton show and covers of Motown staples "This Old Heart Of Mine" and "Goin' To A Go Go" from a 1966 French TV broadcast. Although it's only included on the UK Record Store Day list (ie you won't find it listed along with their other two releases on recordstoreday.com), Broadcast 66 EP is indeed scheduled to be stocked in American stores on Record Store Day (or at least at Bullmoose and Amoeba locations; contact your local shop to find out if they ordered it).
Record Store Day Tracklists
A Rose For Emily
A – "A Rose For Emily" – unreleased version with cello accompaniment
B – "This Will Be Our Year"
I Want You Back
A – "I Want You Back (1965 version)"
B – "I Want You Back (2015 version)"
Broadcast '66
Side A
1. Gotta Get A Hold Of Myself
2. An Introduction To The Zombies
Side B
1. This Old Heart Of Mine
2. Goin' To A Go Go