Clyde Stubblefield – the drummer on funk-defining James Brown records "Cold Sweat" (1967), "There Was A Time" (1967), "I Got the Feelin'" (1968), "Say It Loud – I'm Black and I'm Proud" (1969), "Mother Popcorn" (1969), "Ain't It Funky Now" (1969) and the 1970 double album Sex Machine, among others – died of kidney failure at age 73 on February 18, 2017. Known for his crisp snare sound, syncopations split between his four limbs and what Questlove describes as his "free-jazz left hand," Stubblefield is one of the most innovative and influential drummers of all time. "The thing that defines him, that sets him apart from other drummers," in Questlove's view, "are his grace notes, which are sort of like the condiments of what spices up the main focus. His grace notes, his softest notes, defined a generation."
"When I first started with Brown, he had five drummers and I was the sixth one. There were six sets of drums sitting on the stage. He had special drummers for everything, one guy playing one type of groove and such. Then he fired everybody except me and Jabo [John Starks]. He called on Jabo for certain types of ballads and things and called on me for the hard, ass-kicking shit."
             – Clyde Stubblefield in Star Sets
James Brown recalled in his autobiography, "Starks and Clyde Stubblefield were two of the funkiest drummers you could find. They did it to death." In addition to his landmark recordings, Stubblefield played several of Brown's most iconic concerts, including the Boston Garden show (following the assassination of Rev. Dr. Martin Luther King Jr.) and in Vietnam for United States service members. Watch Clyde's famed April 5, 1968 Boston "Cold Sweat" solo below (a brilliant display of his aforementioned "free-jazz left hand" and syncopated grace notes):
"In my hometown of Chattanooga, Tennessee," Stubblefield recalled in Jon Cohan's book Star Sets, "there was a factory, had a big tall smokestack with compressed air coming out of it. We lived in a valley, and that sound would echo off the mountains giving a '1 &' beat, like a metronome, waking me up around 8:00 in the morning. The old washing machines made sound going back and forth all the time. Whistling tea kettles, rick-tock clocks, all that got me so grooved up, I just started playing the drums, I couldn't take it no more." He told a similar origin tale to Isthmus: "There was a factory there that puffed out air — pop-BOOM, pop-BOOM — hit the mountains and came back as an echo. And train tracks — click-clack, click-clack. I listened to all that for six years, playing my drums against it."
Drawing inspiration from the sounds of his Southern factory town upbringing, Clyde became a central figure in the evolution of funk music after joining James Brown's band in 1966 (tidbit: his recording debut was James Brown Sings Christmas Songs). His drum break on 1969's "Funky Drummer" is particularly influential, as both a funk classic in its own right and a cornerstone of hip-hop and sample-based pop. From Sinéad O'Connor to The Simpsons to Sublime to David Bowie and Ween official remixes to Alanis Morissette, it's arguably the most sampled drum beat of all time. Even Kenny G has used it (and that's not even counting songs like Madonna's "Justify My Love" which use a similar beat without actually sampling "Funky Drummer" – rather producer Lenny Kravitz sampled a track inspired by "Funky Drummer," Public Enemy's "Security of the First World"). Mark Katz notes the versatility of Clyde's "Funky Drummer" performance in his book Capturing Sound: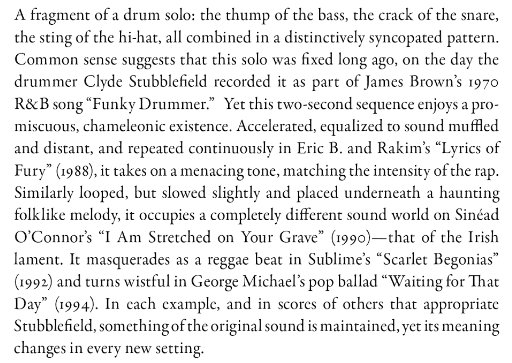 "Tell the truth, James Brown was old 'til Eric and Ra came out with 'I Got Soul'/ Rap brings back old R&B and if we would not, people could've forgot," Stetsasonic rapped in defense of sampling on their MC Delite and Prince Paul-produced, sample-classic "Talkin All That Jazz," a 1988 dance hit. Though Brown's records were considered passé early in hip-hop history, Eric B & Rakim revived interest in the mid-80s – especially in their drum breaks – and Brown's 1986 compilation In the Jungle Groove was specifically curated to cater to the trend. It did so beyond the wildest of imaginations. "Funky Drummer" in particular caught on afterwards, with Boogie Down Productions ("South Bronx") and Public Enemy ("Fight the Power," "Bring the Noise" and others) leading the way. Ubiquitously sampled since by everyone from NWA to REM, circa 1989 it cemented itself as the go-to beat to sample, especially for hip-hop tracks. Among the most famous examples in rap history are Run-DMC ("Run's House"), LL Cool J ("Mama Said Knock You Out"), Digable Planets ("Where I'm From"), Rakim ("How I Get Down"), Nas ("Get Down") and The Alchemist ("It's Gon' Pop"). See a longer list here. Stubblefield had mixed feelings on its popularity with samplers. "I love it," he exclaimed in Star Sets, but not without a rub. "They never acknowledge it or say thank you. I think that's disrespect. But I'm still honored that they used it." What's more, "I didn't like the song [Funky Drummer]," he told Paste. "I still don't really get off on it."
Stubblefield was diagnosed with bladder cancer in 2000, had a tumor in his kidney removed in 2002 and suffered from end-stage renal disease and a variety of related issues since. In 2014 he had his thumb amputated after a burn accident. With no health insurance other than Medicare for most of that time, it was revealed last year after Prince's death that the Purple One – one of Clyde's many admirers – secretly paid $80,000 worth of medical bills for Stubblefield (despite the two music legends never meeting).
Though he reunited with the original J.B.'s rhythm section on the soundtrack of 2007's Superbad, in recent years Clyde was more often in the spotlight for his lack of royalties than for his music, including a feature spot in PBS' 2010 documentary Copyright Criminals. "All my life I've been wondering about my money," Stubblefield chuckled in 2011 to The New York Times. The essence of his problem was how copyright law assigns ownership. Money for sampling a James Brown record goes to the copyright holder, not Clyde, even if his drum part is the only portion of the track that is sampled (as was often the case). "That ['Funky Drummer' beat] was mine. [James Brown] didn't tell me what to play. I played what I felt, but he owned it," Clyde says in Kembrew McLeod and Peter DiCola's book Creative License: The Law and Culture of Digital Sampling. "I haven' gotten a penny for it yet." Clyde's 1997 debut album The Revenge of the Funky Drummer and 2011's Copyright Criminals DVD were designed to overcome these legal issues with sample-ready tracks newly recorded by Stubblefield.
In the wake of his passing "Clyde Stubblefield" and #clydestubblefield trended on twitter. Posts from musicians paying their respect on social media – including many of the drummers he inspired, hip hop royalty and fellow bandmates Bootsy Collins and Pee Wee Ellis – are below in chronological order, followed by a list of drummers on Brown's key records (compiled from information provided by Brown's former road manager Alan Leed in Jim Payne's book The Great Drummers of R&B Funk and Soul):
.
https://twitter.com/UMO/status/833130477661757440
https://www.instagram.com/p/BQs4hE1DGMr/
…