Revised and Updated February 27th
Uncut reports Day of the Dead is due April 2016 on 4AD
Legend has it the first time the Dessner brothers played with their future National bandmate Bryan Devendorf they jammed for eight hours on The Grateful Dead's "Eyes of the World." They were in their early teens.
Fast forward to Coachella 2011: National bassist Scott Devendorf broke news to Spinner that the group was planning a Grateful Dead tribute as a follow-up to Dark Was the Night (a 2009 compilation featuring Arcade Fire, Bon Iver, Spoon, Sharon Jones, Sufjan Stevens, David Byrne, Feist and others). Both the former comp and the Dead project are benefits for AIDS charity Red Hot curated by the Dessner brothers. Though AOL Music killed Spinner three years ago, Devendorf's quotes from that 2011 post are recaptured below:
"We're actually working on a new compilation record, like we did the 'Dark was The Night' record, that's going to be a Grateful Dead covers record."
We're just figuring that out right now. Matt [Berninger, frontman] has got to sing it, so we're thinking a Phil [Lesh] song, 'Box of Rain' or 'Unbroken Chain,' something like that. For us, the frontrunner right now is 'Box of Rain' I think, but we'll see.
I think Steve Reich is on it as far as doing some things. He's actually an old friend of Phil Lesh. They go back to younger days. Then there are newer, folky bands like Fleet Foxes, Bon Iver that are interested.
"It's not going to be like jam bands cover the Dead. There are so many cover bands. I think half of the record will be reinterpreting it. We're also trying to think of unusual [acts]. Crystal Castles would be awesome."
Soon after Spinner's initial post The National's management issued an official statement: "Bryce and Aaron Dessner are currently working on a follow up to 'Dark Was The Night.' No details can be confirmed at this time." 
Behind the scenes the wheels began to spin and in March 2012 Aaron Dessner and the Devendorf brothers teamed with Yellowbirds Sam Cohen and Josh Kaufman, The Walkman's bassist/ organist Walter Martin and Conrad Doucett to form a one-off super group to back Bob Weir for a Headcount event at his TRI Studios in San Rafael, California. After extensive rehearsals they played a so-called "Bridge Session" on March 24, 2012. The night's promo art showed the Brooklyn Bridge with the Golden Gate Bridge, the implication being it "bridged" coasts, generations and musical scenes. Two National sidemen were also playing in the band (pun intended): Thomas "Doveman" Bartlett and Kyle Resnick. With Kaufman acting as musical director, this all-star group played two sets – with a Headcount political discussion in between, and a mini-acoustic-set encore afterwards – for a live audience of only 100 or so. The intimate performance was streamed live on Yahoo! Music, in addition to being the first in Weir's series of webcasts on his TRI Studios website (snippets were also subsequently included in The Other One: The Long, Strange Trip of Bob Weir). Cohen later assessed the event for Jambands.com:
"We actually had a ton of rehearsal in New York, really internalizing their music, figuring out how we wanted to play it, and then getting to go play with Bob Weir. We had a couple of twelve hour rehearsals and then we rehearsed maybe 4-5 hours the day of the concert, and the concert itself was close to three hours long. So it was… it was incredible. The only time he stopped to practice was to work on the form of the jam, which was so cool. He would stop and say "Oh when we would play this, there's actually more of a form to it, it's not all in E, it's in E and then it's in C-sharp minor, then we go back to E, then someone starts playing this riff and then we all start playing that riff in different permutations and then we go back into verse. So it was basically an enormously dorky musical experience and spiritually fulfilling."
"We were really happy about being able to make it less solo-y and more like a band playing. A lot of that is due to Josh Kaufman, who was the bandleader for that. I came in through him. He's old friends with The National guys and they asked him to lead the rehearsals and be the bandleader for that event and he brought me in. Josh is the other guitar player in Yellowbirds and knew I loved the Dead and said, 'Hey, you should do this with me.' I obviously jumped at the chance and that was that. A lot of the rehearsal was – this is how it's been done for years, let's actually make it more of a band section than a solo. Keep the solos short was a constant conversation."
"The Grateful Dead was, literally, some of the first music that Bryce and I were exposed to and played," Aaron explained to Relix last year. "Scott and Bryan are equally, if not more, into the Grateful Dead, so it has always been in our music, in the ether. On a whim, we asked the head of Red Hot—the organization for whom we produce these charity records—if they would approach the Grateful Dead about a clearance. They came back and basically approved the entire catalog, which meant that we could put something deeply ambitious and expansive together. Because anyone who really listens to the Grateful Dead knows you can't make a 10-, 20- or even a 30-song record and really cover it. And not long after that, Bob Weir invited The National out to his studio for a HeadCount event. It was our first personal interaction with him. All of a sudden, this closeness formed." (Photos and more details from The Bridge Session are here. Watch a rip of the full webcast below.)
Cohen and Kaufman joined Weir again on August 3, 2012 at TRI Studios to commemorate Jerry Garcia's 70th birthday at the Moves Me Brightly concert. The peak of 2012's Jerry Garcia week, the full 263-minute show streamed free on demand that summer, and was released on DVD the following year. Although The National members et al from the Bridge Session did not participate in Moves Me Brightly, the idea was the same: bridge Haight hippie elders with East Coast successors more likely to be tagged "hipsters" (Cass McCombs or The Hold Steady's Craig Finn and Tad Kubler for instance). And once again a Yellowbird was the bandleader, Cohen this time. (Watch Weir with Cohen, Kaufman, Vampire Weekend's Chris Tomson, Jonathan Wilson, former Grateful Dead/Jerry Garcia Band vocalist Donna Jean Godchaux, Further's Joe Russo and Jeff Chimenti, Phish's Mike Gordon, Black Crowes' Adam McDougall, Neal Casal, Jim Lauderdale, Jon Graboff and Harper Simon play set closer "Franklin's Tower" below.)
The National's tribute album took a major turn the following year. Referring to the project as "Dead Hot," National frontman Matt Berninger revealed to Billboard at Bonnaroo 2013 that the Dessner brothers "approached the remaining members of the Dead and asked them if they were into that idea and they've given us…full rights to use all the [Dead] music and everything like that. They're very into [the idea] of the project."
"We're just getting going this summer, probably, and a bunch of friends in bands, and then some surprising guests, are gonna hang out and smoke a lot of pot and record Grateful Dead songs," Dessner added. "Bryan and Scott were the Deadheads."
Aaron Dessner revealed more details in a Relix interview later that summer:
 "We've done a lot of work talking to various artists and laying the groundwork. It is kind of an ambitious project both because of the legacy and the material. We are obsessed enough with the Grateful Dead that it is kind of a monumental idea."
"How do you even skirt the surface of it? We are about to dive in in a major way. We listen to the Grateful Dead a lot on tour, mainly because Scott is the DJ on the bus, and he is obsessed."
"There are all kind of corners of the musical world that are deeply influenced by the Dead that one wouldn't expect. Lee Ranaldo is a crazy Deadhead. So that was part of the idea but I think it is broader than that now. Jerry Garcia was a total cat."
Aaron also confirmed the involvement of members of Vampire Weekend, The War on Drugs, Bon Iver, The Walkmen and Kurt Vile.
Also that summer, Weir sat-in during "Terrible Love" in The National's set at San Francisco's Outside Lands on the anniversary of Jerry Garcia's death. Later that month Bryce and Matt discussed the project with radio.com in their most in-depth interview to date on the band's relationship to the Dead. Matt focused on his personal change of attitudes towards the hippie icons over the years:
"Everybody in the band [is a Deadhead]. I'm the least… In college I was like a, whatever, 'alternative rock snob,' for me it was the Smiths and R.E.M. and all that other stuff. I defined myself by being into College rock bands. But now, eventually you start to lose your snobbery and I've learned to love The Dead, which I didn't think I would back then…I went to a liberal arts college —  Miami University of Ohio — I went there for two years. I loved the school but there was the whole sort of frat culture of basically young rich kids trying to pretend they're poor and stinky, reliving the '60s and romanticizing that whole thing. I remember I found that annoying. So I think that's why. It ruined reggae for me, too…"
Bryce elaborated on the nature of the tribute:
"Scott is our resident DJ and he has really diverse music taste, but for some reason now it is 110% Dead only. That's what we listen to on the bus and back stage. Which is awesome, but sometimes you're like, 'Come on Scott, give us some New Order or something.'
I definitely think that the long-form kind of jam thing that The Dead explored so deeply — and also the way that people got into that, there's a complexity in their music, especially say with the way Jerry Garcia plays guitar — that absolutely it has some correlation with more composed concert music. The repetition of the minimalists — I think there's a certain kind of modal behavior in the way they use scales and things that would maybe would have some relation.
One thing that we're looking at with this idea of doing a Dead tribute is just sort of examining who are unlikely fans of The Dead, and one person I would say is a composer name David Lang is a really important kind of post-minimalist composer — he won the Pultizer prize a couple of years ago — he's like a massive Dead fan.
When we mentioned we were doing it, people actually started coming to us. We know close friends of ours like Justin Vernon of Bon Iver, someone we've jammed Dead tunes with so that was obvious. The band Fucked Up wrote to me, so that was surprising. Lee Renaldo from Sonic Youth is a big Dead fan that was kind of surprising."
Matt discussed the project again with radio.com in March 2014:
"The wheels are in motion and a lot of songs from different people have been coming in and they are all lots of closet Dead fans out there in the indie rock world. So, yeah, I think it's going to be a really cool record.
When they [the surviving members of the Dead] found out this was happening they kind of opened their archives and sent these giant box sets. They sent like 50 box sets to us to give to all these potential artists. So all these Grateful Dead geeks were getting these personalized, giant box sets of their entire catalog. It made a lot of people's day. They've been very, very cool about the whole project and they've been really excited about it. That's just kind of a surreal thing in itself."
Among the unsuspected fans of the Dead is Yo La Tengo's Ira Kaplan, a long-professed Head who cites Live/Dead as one of his favorite albums:
"Even when I was going to CBGBs to see bands I never felt like I really belonged anywhere. One of the things I liked about Television is that they reminded me of the Grateful Dead. I listened to them a lot when I was young. I heard Live/Dead long before I ever heard 'Sister Ray'. 'Dark Star' was my introduction to something that could develop over a long period of time so that record was just really magical to me."
In part the compilation summarizes the state of Dead songs covered live by bands not necessarily expected to do so. The War on Drugs cover "Touch of Grey" on the tribute for instance, as they have in concert. The night Bob Weir sat in with Wilco during 2013's Americanarama tour stop at Shoreline Amphitheatre is on the comp, as are Real Estate, who covered "He's Gone" at the Fillmore in San Francisco on Jerry Garcia's birthday in August 2014. Likewise The National covered "Peggy-O" at last year's Treasure Island for Bob Weir's birthday.
At the heart of the tribute album are recordings from an all-star gathering at Hudson Valley's Dreamland Studios – a converted Church near Woodstock – during the blistery February of 2015 (photos and more details here). "I'll show you snow and rain," The National instagramed, quoting "Bird Song" in reference to that day's weather. The core band – the two pairs of brothers from The National, Sam Cohen, Josh Kaufman, Walter Martin and Conrad Doucette – was the same as the super group that played behind Weir at the 2012 Bridge Session, plus Bryce. They were joined by a revolving door of talent: Lee Ranaldo, Ira Kaplan, Cass McCombs, Sam Amidon, Will Oldham/ Bonnie 'Prince' Billy, Kristian "The Tallest Man on Earth" Matsson, and the most trusted name in Dead covers: Joe Russo of Furthur and Joe Russo's Almost Dead (as well as Benevento/Russo Duo, the Gene Ween Band, and many other groups). "It was really powerful to see Ira and Lee bring such soul and care to their performances," Aaron told Relix. "For them, it's not just learning a cover. It's a musical gospel—getting into the fabric of the music in tangible ways. It's made us come back to this music because, though we've always listened to the Dead, we've gotten away from it and gone on other musical journeys. The goal is to create a powerful, beautiful, charitable vehicle."
"There's a cohesiveness to the songs we recorded with our various comrades in these Upstate New York churches," Aaron continued. "So, at the heart of this record are more than 30 songs that were played in a very live way with this beautiful sound. We tried to capture this feel— these inspired performances by different vocalists and soloists playing with a group of people who have played together for many years. We tried to get other groups of people together who also had that kind of chemistry, so some sessions happened in Eau Claire, Wisc., where Justin Vernon has his studio and his group—his musicians—that he grew up with. They have a similar story to us."
"The stuff we did was obviously great," Bryan joked to Stereogum in November 2015. "Some of the interpretations of the songs, you hear it, and you go, 'My god, this is fucking killer.'" Scott added, "the stuff we did is very consistent musically, leaning more towards the originals" referring to the two dozen or so tracks cut at Dreamland and contrasting them with the contributions of other bands recorded separate. "Some of the covers are really out there and totally different."
Among those that wildly stray from the Dead are Unknown Mortal Orchestra's Prince-like "Shakedown Street" and The Flaming Lips' "Dark Star" cover – one of two versions of the live Dead staple on the tribute – described by Wayne Coyne as "space-funk, skronk bliss, hip-hop-hippy drop, fucked up."
As increasing amount of bands contributed to the project the logistics of its release became more difficult. "You can't call it at 30. What 30 tracks?" Aaron explained to Stereogum. "It's almost like, for some of these songs, making an album in itself. But it's fun — [the Dead] made some good studio records but it wasn't their thing. So, to actually shine a light on these things, and to do it with a lot of care and to see how excited all these musicians are … literally, there's everyone. I mean, you'd be shocked at all the people."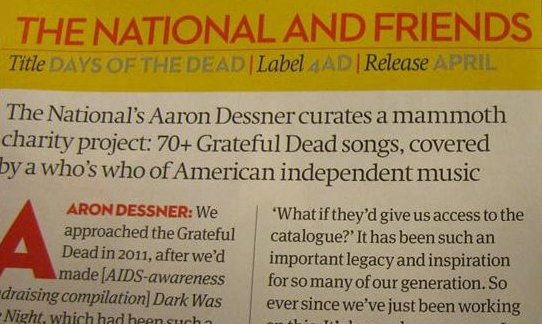 Aaron discussed how it all came together in the February 2016 issue of Uncut magazine. Titled Day of the Dead, the tribute is planned for an April 2016 release by The National's label, 4AD (presumably it will be issued by The Red Hot Organization licensed to 4AD Ltd, as Dark Was Night Night was before it). "It's about 70 tracks long now," Aaron confirmed. "We were calling it Day of the Dead, but now we might call it Days of the Dead. The idea is to be very expansive, because I think for people who really know the Dead and know this music, even 70 songs feels light. I could name 20 off the top of my head that I'm disappointed we didn't record." 
The Dessner brothers have since announced a one-off all-star tribute performance called 'Day of the Dead' at this year's Eaux Claires festival. Based on that, Day of the Dead – singular – is seems to be the title they settled on. Artists confirmed in the interviews cited above, on social media by those involved with the sessions or by Rolling Stone's Will Hermes (in a series of tweets on February 9, 2016 that have since been deleted) are listed below: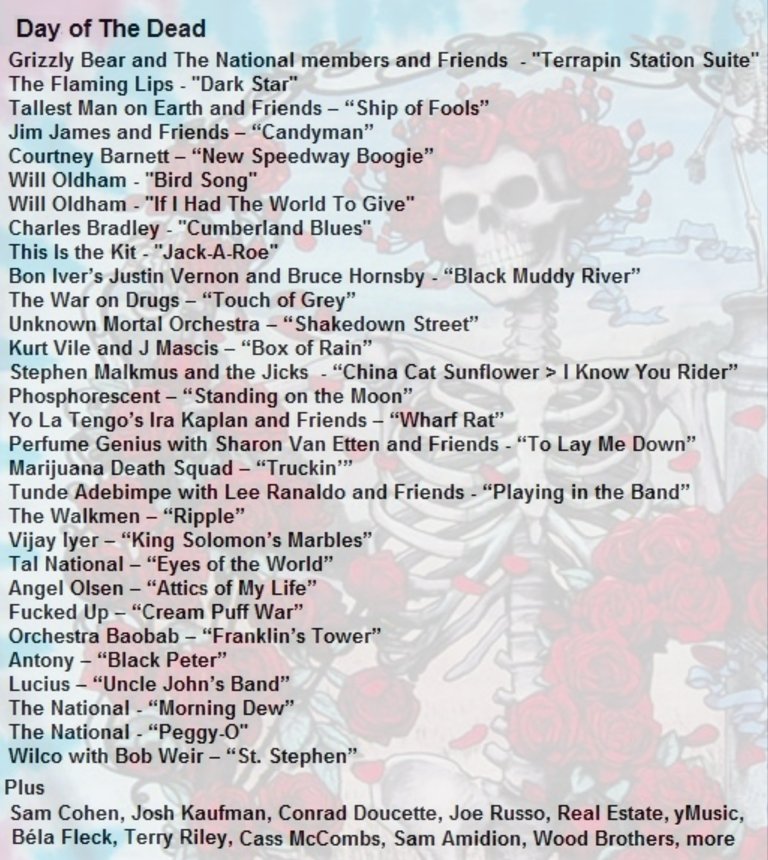 The tracks labeled "…and friends" feature the core band – the two pairs of brothers from The National, Sam Cohen, Josh Kaufman, Walter Martin and Conrad Doucette. The National teamed with members of Grizzly Bear for a very special selection. "We used to joke about starting a Dead cover band with our friends from Grizzly Bear," Aaron explained to Relix, "so we have Daniel Rossen, Christopher Bear and Ed Droste and some of us on the full "Terrapin" suite. Bryce added some orchestration to the song because it's this ornate, baroque, progressive rock song. It's a more serious undertaking than just jamming out." The collection runs nearly five and a half hours according to Hermes, and includes the Dead's standards but doesn't stop there. "We included songs like "Rosemary" and "What's Become of the Baby," Bryce revealed to Relix last year.
As for its release, Aaron opined to Relix "the most Grateful Dead way" would be through an app. "I remember getting One from the Vault and the 'Dick's Picks' releases and just studying them. Nobody could play like Jerry Garcia— even if you thought you could or tried to emulate him."
The hope of releasing it on vinyl was first revealed by Relix. Aaron has since updated Uncut on those plans:
"Out intent is to have it available digitally, then a very elaborate vinyl edition – a special order, not the kind of thing you'll find in a record store. It'll be 10 or 11 vinyl albums. There's mixing to do, and some last minute performances. But the heavy lifting is done. I'll go on a four-hour drive and get through half of it!"
"The Dead's music was essentially a blend of all these different things," Aaron told Relix. "There's obviously a lot of theory not only in Phil Lesh's playing but also in Bob Weir's. There was a lot of modal stuff, and in a way, it had as much to do with jazz as it does with rock or roots music. We always thought that was really fascinating."
No official release details have been announced yet. Stay tuned…