And so another Record Store Day has come and gone. Here's a recap, including streams of many of the most exciting releases.

Several records that came out this weekend can be counted among the top releases of 2014 so far. Case in point: Tame Impala's Live Versions, a 12″ featuring 8 tracks selected by Kevin Parker "based on how different the live versions are from the album versions" (as the press release words it). Technically these recordings were already out – as they were recorded by local radio station 93 XRT and aired as part of their Sunday night concert series – but now we have an official mix, and on vinyl no less. Score!
But if you didn't score a copy on Saturday, here's a rip:
The band included a letter with the record. It reads:
"Dear record buyer,
Thanks for buying this vinyl. This is Tame Impala's first official-ish live release. It's from one of our shows in the US, recorded and mixed with love by everyone at team Impala. The whole show was over an hour and you're only meant to put 40 minutes on a vinyl so we had to condense it down and cut some songs. Fuck! Well it was either that or speed the songs up to double time but that wouldn't have been very groovy and you don't need 40 minutes of me singing in chipmunk mode. Maybe we'll release the whole gig later on, or maybe we'll just put the whole thing on the internet. Or maybe we'll just do 10 more live albums.
Anyway people ask me if I get bored of playing the songs every night for about 77 tours. I've never really had time to think about it so I just say 'not really sure a little bit whatever'. If I imagine a painter who painted a picture one day and then was asked to paint the same picture 100 times I'd expect him to get pretty sick of that painting. But if every time he painted it he got to feel just a fraction of the love I feel from our audiences and fans in every city we play and the expressions on peoples faces in the front row when "their" song comes on I imagine the painter would have no trouble painting that same picture everyday for the rest of his life.
Enjoy!"
For Record Store Day The Pixies' offered a pre-release vinyl edition of Indie Cindy, the band's first album since 1991's Trompe le Monde. Along with this the band surprise released a non-album cut called "Women of War" as a one-sided 7-inch, included (unannounced) with the LP release. Indie Cindy gets a full retail release on April 29th but the full album is streaming now on soundcloud and "Women Of War" is available as a free download at soundcloud.com/pixiesmusic/women-of-war.
https://soundcloud.com/pixiesmusic/women-of-war
It wouldn't be Record Store Day without Jack White's Third Man Records offering some other surprises….
…like the unexpected release of Neil Young's new covers album, A Letter Home.  Though there's been no formal announcement, Third Man's website began accepting orders for the vinyl version on the eve of Record Store Day. The entire record was recorded in the refurbished 1947 Voice-o-Graph vinyl recording booth Jack White's Third Man store debuted at last year's Record Store Day.  Young's website  describes it as "an unheard collection of rediscovered songs from the past recorded on ancient electro-mechanical technology captures and unleashes the essence of something that could have been gone forever." 
[UPDATE] Listen to "Needle of Death," a Bert Jansch cover:
The biggest news of the day however was Jack recorded and pressed the "World's Fastest Record." It started at 10 am as a few hundred lucky fans packed into Third Man Record's Blue Room. "White took the stage flanked by two faux security guards. Several real ones patrolled the crowd, ready to evict anyone caught capturing snapshots on their cell phones, in order to save the first images for the album art of the limited-edition seven inch," reports Rolling Stone.
After warming up with "High Ball Stepper," White and his band performed his new single, "Lazaretto," and it s B-side, Elvis Presley's "Power of My Love." White played a few more songs (White Stripes classic "Dead Leaves And The Dirty Ground," Blunderbuss' "Freedom at 21," "Weep Themselves to Sleep" and "Love Interruption" and three more new songs from Lazaretto: "Three Women," "Just One Drink," and "Would You Fight for My Love"). Meanwhile Whirlwind Heat brought Jack's masters to United Record Pressing, escorted by security on white Vespas.  Reports from social media followed:
After his performance White went to United Records to oversee the pressing. Though stereo equipment broke – forcing the record to be cut in mono – the stunt went along without much of a hitch ("Even cooler," White was later quoted by Rolling Stone about the mono release. "Phil Spector will be happy, I guess.")
Three hours, 55 minutes and 21 seconds after recording "Lazaretto," White returned to Third Man with the first retail copies and a new world record. "We don't shy away from the word 'gimmick' or 'novelty," Ben Swank told Rolling Stone afterwards. "I think that stuff's really important. There doesn't have to be that one cynical way of releasing music. If you enjoy what you are doing, you might as well have fun."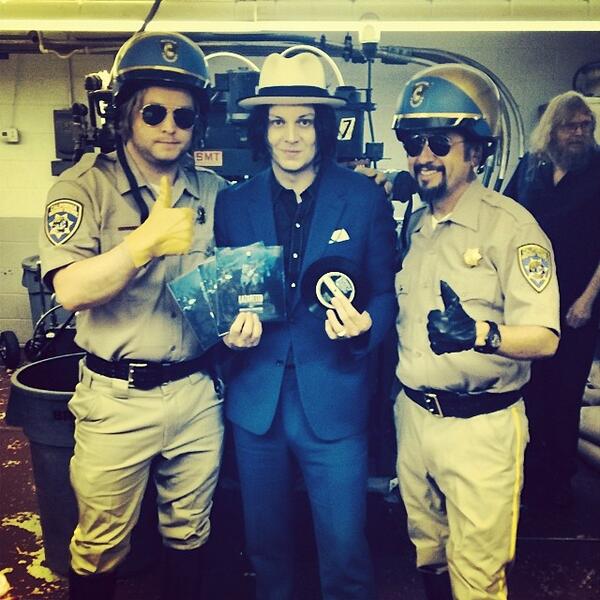 Listen to the "World's Fastest Record," Jack White's new single "Lazaretto" and watch a video recap of the world record being set below:
R.E.M.'s Unplugged box was another of the much a-buzzed releases of Record Store Day 2014. This four-LP set pairs their first session on the popular MTV acoustic performance series in 1991 with their second from one decade later, including non-televised songs. MTV is now streaming videos from both performances. Click these links for 1991's set:- "Half a World Away," "Disturbance at the Heron House,""Radio Song," '"Low," "Belong," "It's the End of the World as We Know It (And I Feel Fine)," "Losing my Religion," "Pop Song 89," "Endgame," "Swan Swan H"…
…and these for 2001: "All the Way to Reno (You're Gonna Be a Star)," "Electrolite," "At My Most Beautiful," "Daysleeper," "So Central Rain," "Losing My Religion," "Country Feedback," "Cuyahoga," "Imitation of Life," "Find the River," "Beat a Drum," and "I've Been High."
Space Project compiles recordings by Spiritualized, Beach House, Youth Lagoon, Mutual Benefit, the Antlers, and others all incorporating sounds of the Voyager 1 and Voyager 2 space probes in new original tracks. Stream it at NPR.
In related news, Spiritualized frontman J. Spaceman and Kid Millions issued a 12″ + 7″ set captured at their first ever duo gig called Live at Le Poisson Rouge. Best known as Oneida's drummer, Kid Millions also toured with Spiritualized last year and this completely improvised show at the illustrious Greenwich Village club was recorded on a night off from said space-rockers voyage through the northeast last September. Northern Spy is streaming the A side, "Misha" (below) and describes it as "24-minutes of Spaceman's minimal guitar and piano parts along with Millions' eclectic, yet subtle drumming. The pairing of these elements yields a dreamy and celestial atmosphere that could compare with anything from Spaceman's famously mind-altering catalog."
Dinosaur Jr. Visitors box packaged together five 7″ records, their first four singles on SST and Homestead plus a bonus 7″ featuring their cover of the Byrds' "I'll Feel a Whole Lot Better" from a this 1989 Byrds tribute album. Stream the rarity below:
https://soundcloud.com/numerogroup/dinosaurjr-ill-feel-a-whole/
For Record Store Day 2014 The Flaming Lips released 7,500 copies of their cover of DEVO's "Gates of Steel" on a split with a 1981 live version by DEVO of the same song, a reprint of their classic early '90s "I drank blood with God" T-shirt, and most notably, a vinyl edit of their "24 hour song" 7 Skies H3 pressed on clear 12″ vinyl and limited to 7,500 copies. "They are definitely strong proponents of Record Store Day," Guestroom Records' co-owner Justin Sowers told News OK last week. "They always put out a strong release. It's not just a new single and a B-side. It's always something kind of special." Stream the new 49 minute of the "24 hour song" below:
The Black Angels Clear Lake Forest is a follow-up EP to their recently released fourth LP Indigo Meadow featuring seven new songs on limited-edition clear vinyl. Stream it here. Death Cab For Cutie's new live album was recorded in 2012 and features Magik*Magik Orchestra. Take a listen:
In other stream news, Thee Oh Sees chose Record Store Day to release their new album, Drop (stream it here); Mazzy Star's new track "I'm Less Here" was released as a Record Store Day Limited Edition 7″ (but also received a video treatment; Wilco side project Autumn Defense supported their split with Josh Rouse with this video of them playing the 7″ A-side, "Sentimental Lady;" Parquet Courts supported their "Sunbathing Animal" 7″ with this clip; and Liars offer up a video for "Mess on a Mission" (released on a 12″ fro Record Store Day with three remixes):
UPDATE – Billboard's latest vinyl album charts are almost completely dominated by Record Store Day items. Nine of the top ten, and 43 of the top 50 vinyl LPs sold over that entire week were released on Record Store Day. What's more, 68 different LPs sold more than 1,000 copies each (compared to 17 this same week last year). Even more remarkable, all 25 of the top sellers on the vinyl Hot Singles Sales chart are affiliated with Record Store Day. The overwhelming success of Record Store Day 2014 counters criticisms of the day raised by some store owners and vinyl distributors in the past few weeks. Top seller charts – hint Tame Impala, Nirvana and The Flaming Lips lead the way – and more sales details are here.