"I hope I could inspire you guys as much as The Flaming Lips have inspired me and encouraged me to always be myself and to make music because I love it," Miley told the fans and A-listers gathered at Los Angeles' Staples Center to see the third American stop of her new tour on February 22nd.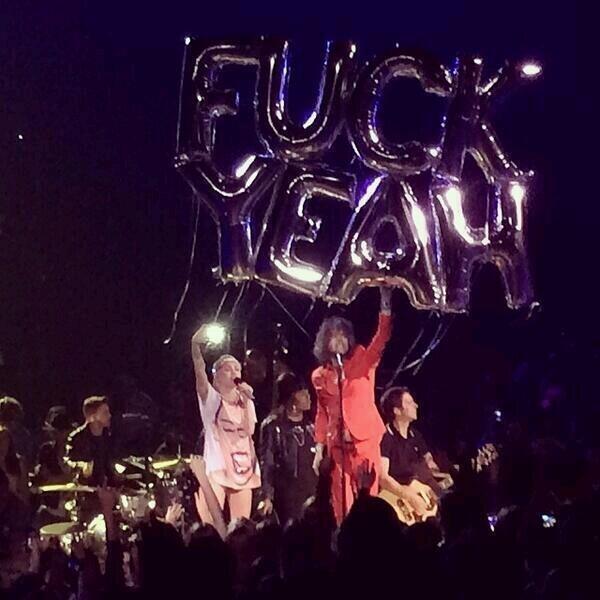 She introduced Wayne Coyne and Steven Drozd to the stage saying "as much as you guys are fans [of me] I'm a true fan of these amazing guys right here. Fuck yeah!" Carrying a giant "Fuck Yeah" silver bubble balloon, Wayne sang "Yoshmi Battles the Pink Robots" with Miley as a duet, backed by Steven on keyboards and her band.  Afterwards Wayne joked that he "fucked up" because he was still drunk from the night before with 2 Chainz, leading them to play the song again. Kidding aside, it seems Miley's plan all along was to perform "Yoshimi" twice and the drunk banter was just Wayne hamming it up. Billboard calls it an "unprecedented pop show moment, [playing] the same song twice in a row just because she could."
Watch the first performance below:
Katy Perry, Khloe Kardashian, Christina Aguilera, Nicole Richie, Kellen Lutz and Emma Roberts are among those seen or rumored to be at Cyrus' show. During her ballad "Adore" Miley leaned into the front row to kiss Katy. "I just kissed a girl, and I really liked it a lot," Miley joked afterwards. The concert concluded with "Party in the USA" and Cyrus twerking with a dancer dressed as Abraham Lincoln.
The show was perhaps best summed up by Particlekid on instagram: "Went to staples center to see my friend Wayne sing with Miley Cyrus with Steven looking like a space Druid up on the jumbo-tron playing the keys…!!! I probably never would've even known about this show if Wayne hadn't invited me but I must admit, her show is tripped the fuck out!!! I wasn't really ever into her music but her live show is a super freaky massively epic ultra-psychedelic party with a solid live band, insanely bizarre visuals, theatrics, sexy dancers, giant furry puppet creatures, singing dancing kittens, and she sang her face off the whole show (no auto-tune) and was killin it! I was also surprised at how friendly and down to earth she is in person…And seeing the Lips on stage with her really made reality extra absurd.. Cool!!! Fun, bizarre night..."
Incidentally Wayne and Steven's performance with Miley fell on The Flaming Lips' anniversary.  What a long, strange trip it's been from Oklahoma City's Blue Note Lounge in 1983 to The Bangerz tour!
The Lips history with Miley goes back a few years, as detailed here. Click on the below photos from last night's show for reviews from other sites: