It's been a cold and snowy winter for much of the country but summer music festival season is just around the corner. And that's means there's a slew of updates from the headquarters of most fests.  We've already recapped line-up announcements from Hangout, Coachella, Wakarusa, Firefly and others here and dissected Roo Clues to decipher which artists are likely playing Bonnaroo. [UPDATE Bonnaroo's lineup and a recap of their announcement webcast – with streams of the Flaming Lips/ Ben Folds superjams – is here]. Below is a mixed bag of the most significant festival news since those previous posts.
First up, some news distantly related the big daddy of all music festivals. "Woodstock '94" commemorated the 25th anniversary of its namesake – the most famous music festival of all time – at Winston Farm in Saugerties, NY. Now 20 years later a music fest may be returning to the farm (which was also proposed as the site of the original 1969 event, but denied permits).  The Times Herald-Record reports organizers MCP Presents (known for running Camp Bisco, Lights All Night and CounterPoint) are seeking permits for a July 11 – 13, 2014 event to be called "Hudson Project Music And Arts Festival."  80 musical acts and 500 artists are planned to be involved, possibly including My Morning Jacket, TV on the Radio, Thievery Corporation, Band Of Horses, STS9 and Vampire Weekend.  The Saugerties Town Board will decide on the matter in a February 19th meeting open to the public.  UPDATE – February 20th "The Hudson Project Music and Arts Festival…should receive final approvals within a few weeks," reports dailyfreeman.com. At the meeting last night Jonathan Fordin of MCP Presents explained the festival will feature four stages along with art installations, art performers, craft villages, amusement rides, yoga classes, drum workshops and a Frisbee golf course.  Campers can arrive July 10th and must leave by July 14th.
Single day tickets are now on sale for Tampa's Gasparilla Music Festival (March 8-9, shown right) and Knoxville's Big Ears Festival (March 28-30).
Wilco has announced Solid Sound will again take a year off, but return in 2015.  The band hosted the fest in 2010, 2011 and 2013. Presumably the break this summer is to afford Wilco more time to work on their forthcoming record. Here's the official announcement.
From April 23 though the following weekend Giorgio Moroder will co-headline Moogfest 2014 with Kraftwerk, CHIC and Laurie Anderson.  Spin.com is not only giving away two general admission tickets to the festival, but also a Moog Etherwave Theremin signed by Moroder!  To enter the contest share the official Moogfest flyer in a tweet that reads: "I want to see @GiorgioMoroder + all the great artists at @Moogfest 2014!"
Austin Psych Fest announced more artists for this year's festival including Panda Bear, The Dandy Warhols, The War On Drugs, Mikal Cronin, Sleepy Sun, Peaking Lights, Pink Mountaintops and more.  The May 2-4 event at Carson Creek Ranch offers tickets ranging from $80 (single-day pass) to $878 (deluxe three-day camping rentals – more details are here). Enter to win a pair of tickets to this year's show just by retweeting this: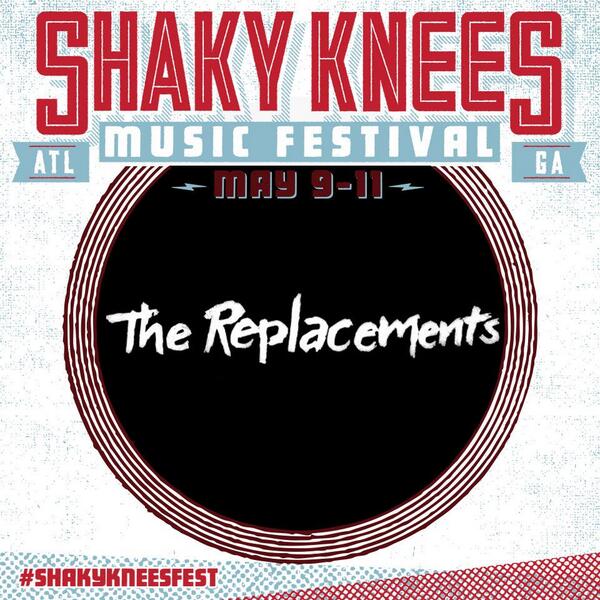 Atlanta's Shaky Knees Music Festival revealed their "surprise" third headliner to be the Alabama Shakes and added The Replacements to the line-up.  The previously announced acts for the May 9-11, 2014 fest include The National, Modest Mouse, Edward Sharpe and the Magnetic Zeros, Spoon, and others.
Boston Calling returns for a its third year from May 23-25, 2014 at the City Hall Plaza. Aaron Dessner of the National is curating the festival featuring headliners Modest Mouse, Jack Johnson and Death Cab for Cutie. Also on the bill: Edward Sharpe and the Magnetic Zeros, Built to Spill, The Head and the Heart, Tegan and Sara, Bastille and more.
Sasquatch is pulling a Coachella and hosting two festivals this year.  Both line-ups have been announced.  The first will be held Memorial Day weekend with Outkast, The National, Queens of the Stone Age, M.I.A., Foster the People,Violent Femmes, Portugal. The Man, Phantogram and others.  The second follows on Fourth of July weekend – fireworks included – with Neutral Milk Hotel, Foxygen, Mikal Cronin, Courtney Barnett, Spoon, Broken Bells, Soundgarden, Kraftwerk (3D), Local Natives, Kurt Vile, Dr. Dog, of Montreal and more.  Both will be held at Quincy, Washington's breathtakingly beautiful Gorge.  Tickets are on sale now: $325 per weekend or $550 for both.  More details are at the fest's official website.
Jack White and Vampire Weekend will headline Houstin's Free Press Summer Fest, May 31- June 1 at Eleanor Tinsley Park.  Edward Sharpe and the Magnetic Zeros, Lauryn Hill, The Kills, tUnE-yArDs, Washed Out and more are also on the bill. Ticket information and the official website is here.
Pitchfork has announced artists for their annual festival to be held this year July 18-20 at Chicago's Union Park.  Beck will headline Friday, Neutral Milk Hotel tops the bill Saturday, and Kendrick Lamar closes the fest.  Other acts include Circulatory System, Giorgio Moroder, tUnE-yArDs, Sun Kil Moon, Death Grips, Sharon Van Etten, DIIV, Wild Beasts and Grimes.
Beck also headlines Edgefest on April 26 at Toyota Stadium in Frisco, Texas with Grouplove and The Avett Brothers, among others.  In addition to the news of Beck headlining Pitchfork and Edgefest, it's previously been announced he'll get top billing at Firefly and make a highly anticipated appearance at Coachella
Keep track of all the most anticipated fests – including dates, featured artists, locations and links to buy tickets – with The Future Heart Music Festival Guide.