Miley Cyrus – joined by The Flaming Lips' Steven Drozd and Wayne Coyne – live debuted a cover of Beatles classic "Lucy in the Sky with Diamonds" during her show at Manchester's Phones 4u Arena on May 14, 2014. Actually, they played it three consecutive times. The reason for the multiple performances? Miley and the Lips were pre-taping a slot for the Billboard Music Awards that aired Sunday, May 18th at 8/7 central on ABC. Below watch fan footage of Miley and the Lips' first run through of "Lucy…" (or a bit more of the pre-performance banter here), followed by the pro-shot third take that broadcasted during the BMAs:
The studio version of "Lucy in the Sky…" is the first single from With A Little Help From My Fwends, a collaborative remake of Sgt. Pepper's Lonely Hearts Club Band due October 28th and tentatively scheduled to feature MGMT, Sean Lennon, My Morning Jacket, Foxygen, Moby, Phantogram, Morgan Delt, Treasure MammaL, Stardeath and White Dwarfs, New Fumes, Birdflower, Sunbears, and more. Beginning May 18th –  the same day as the Billboard Music Awards – "Lucy" became available to fans that pre-ordered the album on iTunes or Amazon. Amazon also offers CD and vinyl pre-orders. Proceeds from With A Little Help From My Fwends will benefit Oklahoma City dogs and cats through the Bella Foundation, a  local nonprofit that Coyne assists.
"Miley and I and everybody associated with the Flaming Lips are trying desperately to help the animal welfare situation in Oklahoma City, which is appalling," Coyne told Rolling Stone. "I've been all around the world, and I've never seen another city that has as many homeless animals as here."
Wayne and Steven have performed with Miley in concert twice before Manchester – in Los Angeles on February 22nd and in Tulsa on March 13th – both times playing "Yoshimi Battles the Pink Robots." The latter performance followed the Lips starting to work on new songs for Miley's next album, "just what her career needs" in the eyes of some critics. A recap of Miley and the Lips budding relationship is here.
Photos from the Manchester show are below, followed by the Lip's #nosleeptillcyrus tweets chronicling their rushed travels to Manchester after an 11 hour rehearsal for Hangout Fest ("Missed our flight.. Bags went without us.. Got a new flight.. Got cancelled.. Rented a van and drove to Chicago in less than 12 hours.. Made it to our London flight!!!"). Previously posted – and continually updated – information on With a Little Help From My Fwends is here.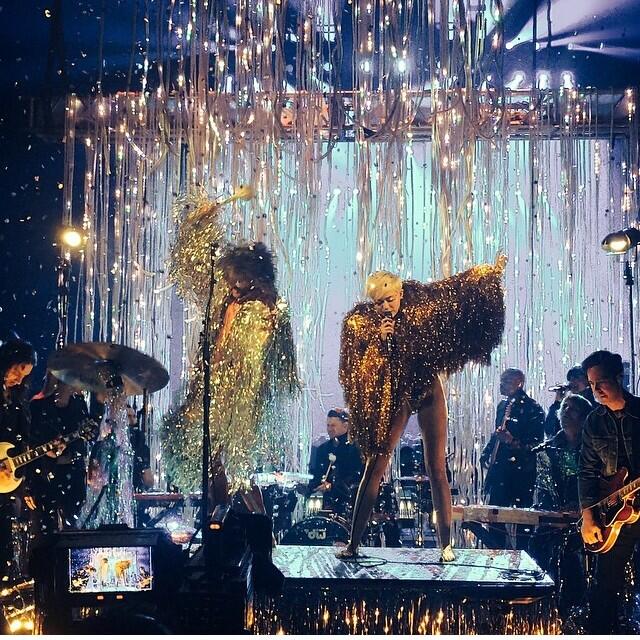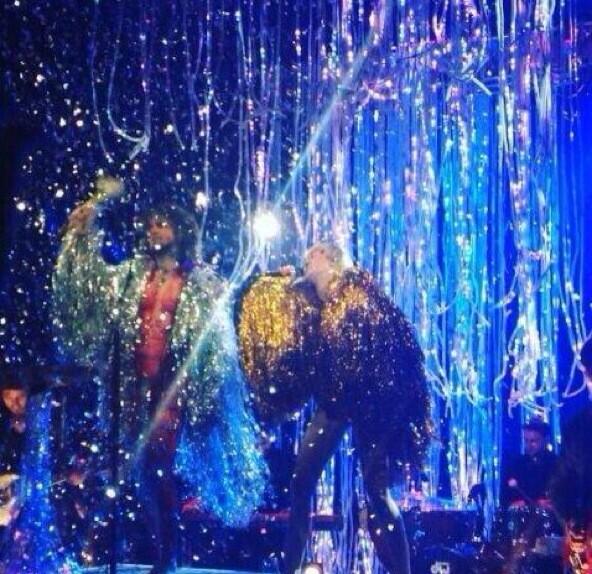 https://twitter.com/zacharyancox/status/466207737412874241