Updated April 16th
U2, who just celebrated the 30th anniversary of The Joshua Tree on March 9th, will commemorate their 1987 classic with a world stadium tour playing the entire LP. One highlight of those shows will surely be "Red Hill Mining Town," the album's sole track never before performed in concert. What's more "Red Hill Mining Town" was recently mixed anew by producer Steve Lillywhite for release by Island Records as a 12″ picture disc this Record Store Day​. MOJO magazine reported that Bono re-recorded his vocal for the new mix, which he says brings "out the colliery brass band [Arklow Shipping Silver Band] which was recorded at the time…You can't hear it in the original mix" (via @U2). Lillywhite tweeted a picture of the picture disc (below right) captioned "First off the press…" on March 9th, though soonafter deleted the tweet. A limited edition of 7000, the 12″ picture disc will feature classic Joshua Tree-era color photos by Anton Corbijn, as can be seen in the picture Lillywhite tweeted.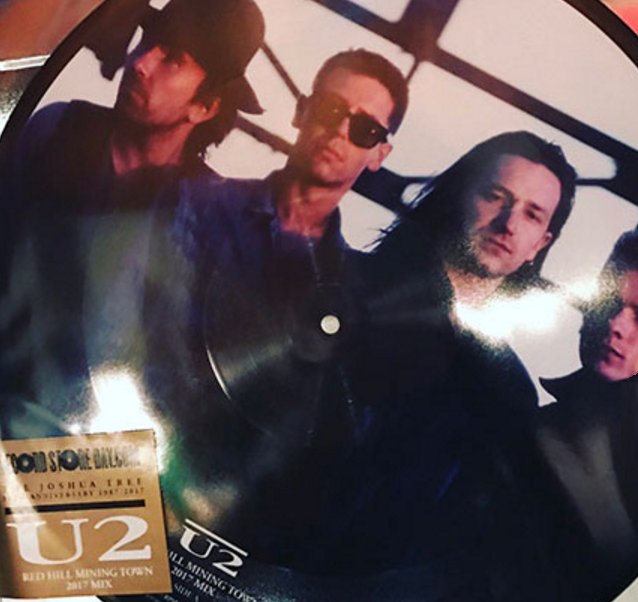 "Red Hill Mining Town (Steve Lillywhite 2017 Mix)" will also be available as one of six new remixes on deluxe reissues of The Joshua Tree. Due out June 2, 2017 in several formats, the "super deluxe" box set version of the resissue contains four CDs, seven LPs and an 84-page hardcover book of 1986 Mojave Desert photography by The Edge. The box includes album outtakes and B-sides, U2 live at Madison Square Garden in 1987, and the aforementioned collection of new remixes. Technically "Red Hill Mining Town" is listed as "2017 Mix," while the others are listed as remixes (suggesting "Red Hill" is merely an alternate version of an arrangement similar to the original release while the others might be more significantly reworked):
1 One Tree Hill (St Francis Hotel Remix)
2 Bullet The Blue Sky (Jacknife Lee Remix)
3 Running To Stand Still (Daniel Lanois Remix)
4 Red Hill Mining Town (Steve Lillywhite 2017 Mix)
5 With Or Without You (Daniel Lanois Remix)
6 Where The Streets Have No Name (Flood Remix)
Update April 16th
"Red Hill Mining Town (Steve Lillywhite 2017 Mix)" was premiered on Dave Fanning's RTÉ 2FM radio show. Stream it circa the hour-and-19-minute mark here (or for a more direct link, here).
Update March 21st
U2 have shared images of both the front and back of the picture disc on their website, shown below. Likewise on social media U2 shared 75 seconds of "Red Hill Mining Town (Steve Lillywhite 2017 Mix)" in a video that shows the picture disc vinyl being pressed, also below: