This is the second of three pages. The first page presents backstory and outlines accusations made since 2014 against the psych bedroom glam band Foxygen, specifically Sam France, by his ex-girlfriend Elizabeth le Fey, also a former touring member of the group. It does not involve Sean Lennon at all, but is necessary to understand the context from which le Fey recently solicited Lennon and their subsequent interactions, including his defense of what he says are her "slander and lies" against him. In the past two weeks the back and forth between le Fey and Lennon has spiraled across scads of tweets, Tumblr posts, Instagrams and Insta comments. For easier reading these have been collected below on this page. In response to this very public disagreement countless social media users have criticized, attacked, praised and debated Lennon. An overview of his responses is on page three. 
Don't have the time/ interest to read all three pages? Read a summary of the key points here. Follow updates at facebook/TheFutureHeart and twitter/TheFutureHeart.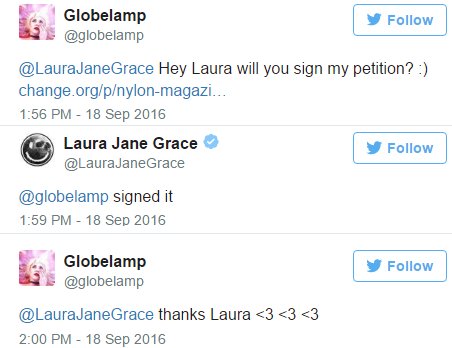 After Elizabeth le Fey explained to Impose this past January her version of the events leading up to the restraining order protecting her ex-boyfriend/bandmate Sam France and his family from her, she used the resulting article to try to get potentially sympathetic influential figures to share her story. She tweeted it at Yoko Ono, Best Coast, Tobi Vail (Bikini Kill), activist Rose McGowan, Rookie Mag founder Tavi Gevinson and others but none of them responded. She tweeted it at digital artist Molly Soda who replied she would share it, but never did.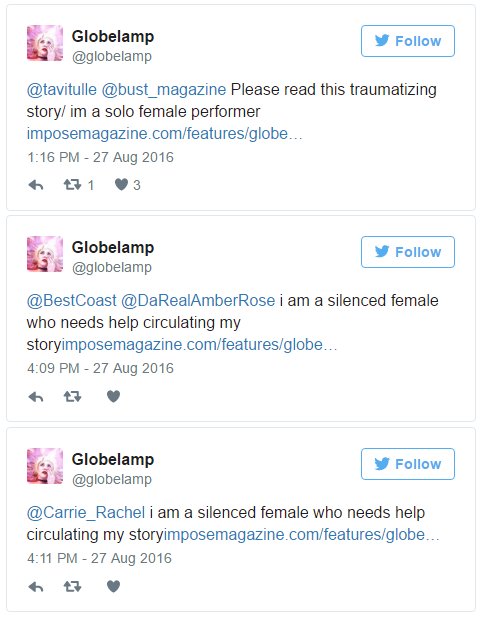 Last month when Desert Daze announced Foxygen had been added to their lineup, Elizabeth called for a protest of the festival. Later she announced on Facebook: "the day that Foxygen is planned to play at desert daze we are probably setting up a show in LA and all the money will go to an organization that helps and educates about abuse." Again she solicited various influential tweeters to share her story (Best Coast, Carrie Brownstein, Amber Rose, Jezebel, Bitch, Bust, Spin, etc); again none of them responded.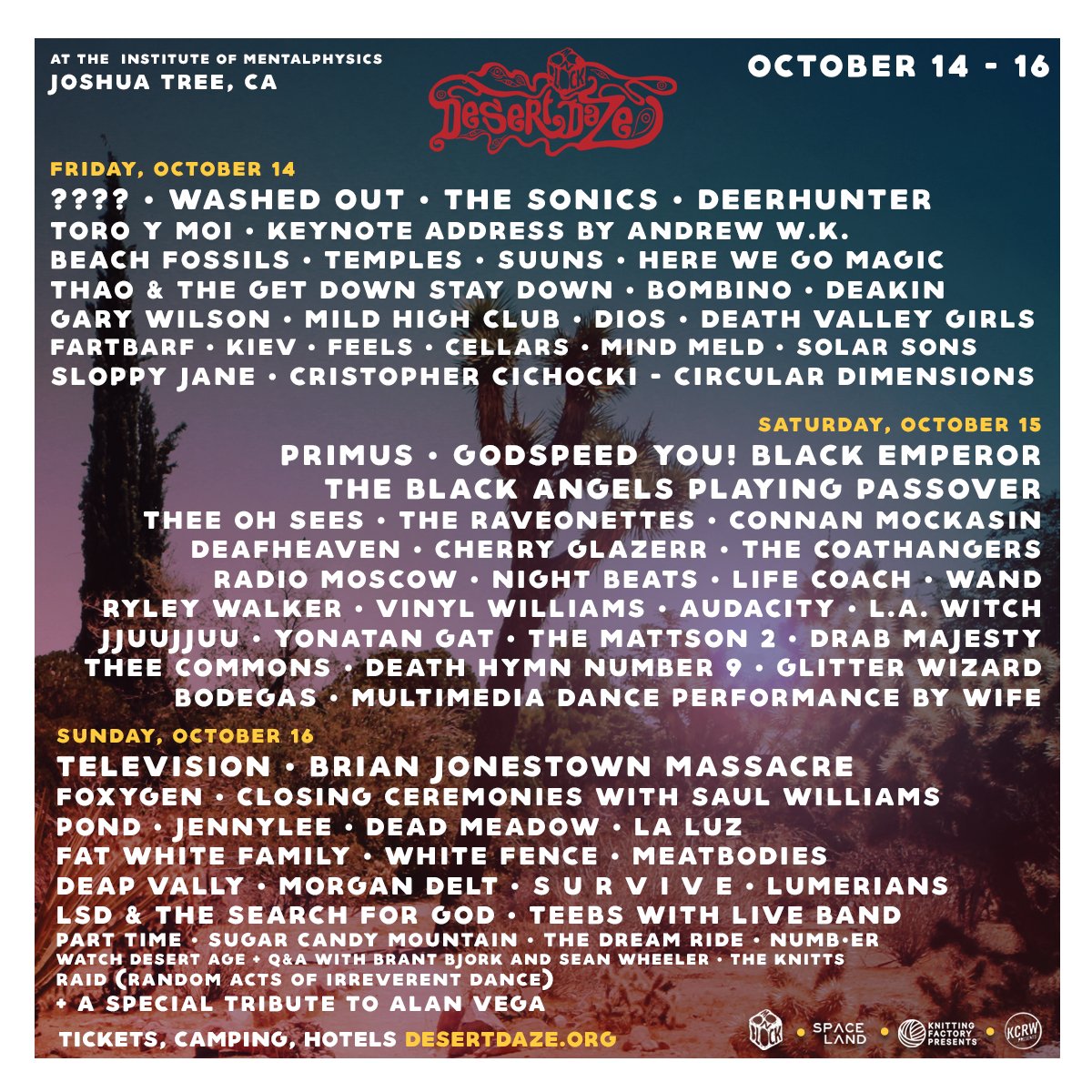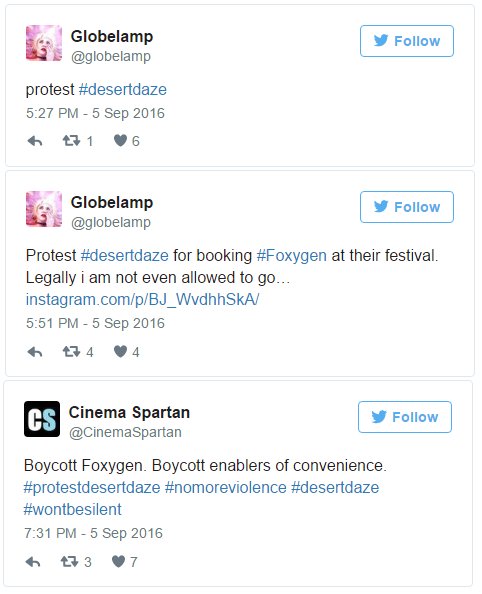 She also solicited one of her most famous twitter followers: Sean Ono Lennon. Unlike the others he did respond, but not as Elizabeth wanted. Though Sean offered condolence ("I sincerely wish you a swift and permanent resolution to what is clearly a terrible situation") he also defended "the people who put on Desert Daze." "Please don't undermine an entire group of people because of one or two assholes in a band," Lennon wrote. "Desert Daze don't know anything about you and Foxygen and frankly it's unrealistic to expect any festival to be judge and jury in regard to the personal dysfunctions and histories of participating artists." Below see Sean's original message from August 27th, top left, and the September 6th exchange between Globelamp and Sean that preceded her public outrage the following day in the other three screen shots (the top DM screen shots were tweeted by Sean in response to the bottom two, from Lizzie):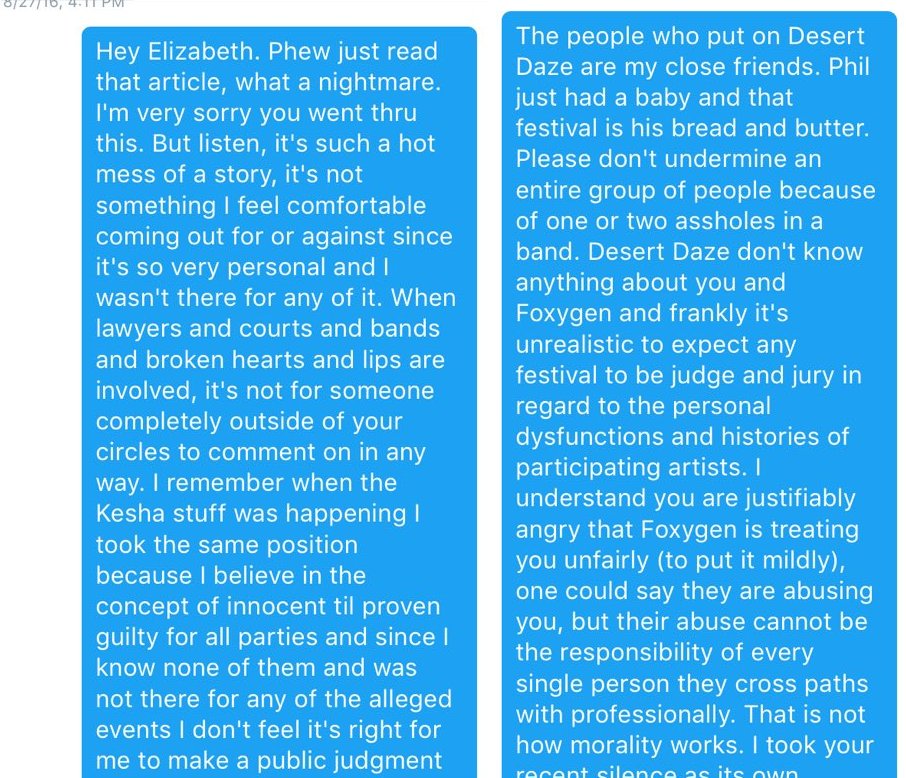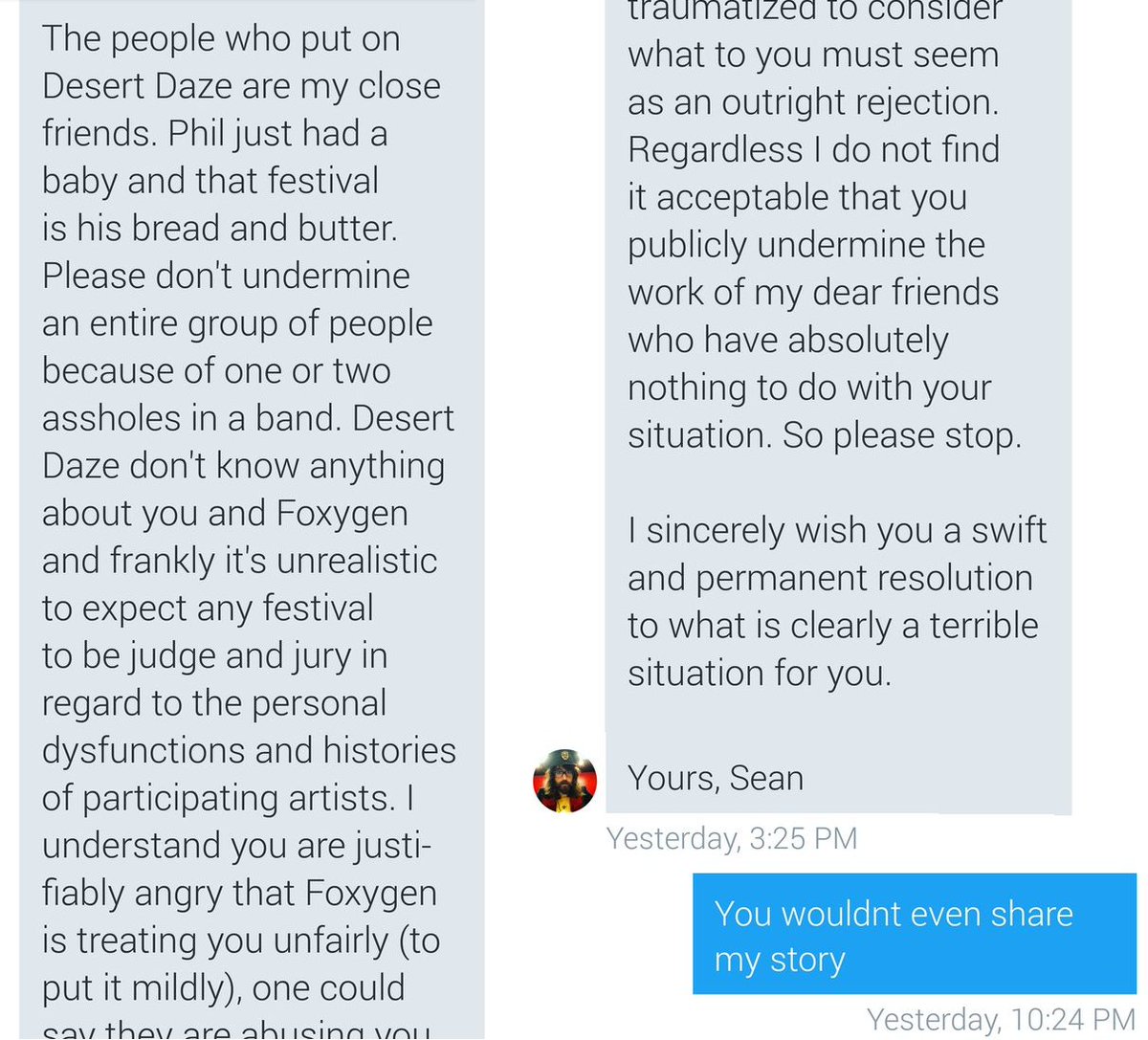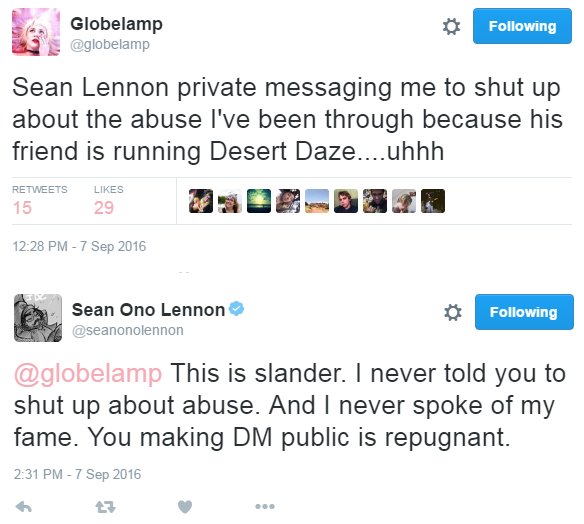 Sean sent these comments in private, but taking offense to his reply, Elizabeth tweeted parts of the messages and publicly accused him of "private messaging me to shut up about the abuse I've been through because his friend is running Desert Daze" on September 7th. Lennon replied, "This is slander. I never told you to shut up about abuse." For the two weeks since they've gone back and forth on social media with various of their followers also weighing in and Sean in particular responding to many of his detractors. In doing so Sean has sent several controversial tweets, leading to him being further criticized, attacked, praised and debated (click to page three for more on that). Meanwhile, various websites reported Lizzie's side of the story. In Nylon Mag's case their site first published, then took down an article/interview with Elizabeth, "On Sean Lennon, Violence Against Women, And The Power Of Protest."
"How strange that this article talking about the right to protest, desert daze, foxygen, and sean lennon got deleted," Globelamp posted on Facebook. "They were probably pressured by sean lennon or foxygen," she presumed on twitter. "Crazy how by taking this article down they are showcasing exactly what keeps happening to me – trying to silence. At this point it has surpassed my individual story & says something about freedom of speech and who rules the media."
On Tumblr she repeated, "This is bullshit and a perfect example in a continuation of people trying to silence me. Please spread this story because it isn't cool at all that publications will take your interview down just because it exposes sexist guys. Please spread this. Tumblr is the only place where I am not silenced."
Subsequently Lizzie posted screen shots of the entire article on her Tumblr, offered to mail printouts of it on her facebook and shared a change.org petition demanding Nylon put the "story back online!" Nylon has not stated why the article was removed or if Foxygen or Lennon had contacted them. It's unsubstantiated claims were reason enough for its removal, even if there was no outside pressure to do so. The article said "Lennon retaliated, going on to defend his right to tell her how she should speak about her experience for the next several days," a claim the differs from Sean's account of the situation. "I'm not fighting I am simply defending against slander and lies," he's tweeted. "I never spoke out! I responded to slander and lies!" "I'm defending myself against slander and lies. Anyone should do the same." "I just will not take slander sitting down. Misogyny is a disgusting accusation I refuse to accept." Beyond defending himself, he's said he is also speaking on behalf of Desert Daze. "I refuse to stand by as she slanders innocents: Desert Daze festival," Sean tweeted.
Nylon's article also referred to Lizzie as "a victim of domestic abuse" without a source for that claim or support of the characterization, and alleged "band member and ex-boyfriend, Sam France, hit her [Lizzie] during an argument, knocking out several of her teeth," an accusation that's not even completely consistent with le Fey's own accounts. She recently summarized the situation on twitter, saying "at first I did break my teeth in a shopping cart. thats Y they were messed up & when I got hit in the face they broke again." "Basically they were chipped, I had caps put on. then after getting hit in the face my caps came out and I had to get implants." She has previously alleged "my ex boyfriend he back handed me in the face and shortly after that one of my front caps fell out" and clarified that the cap(s) "didn't fall out right then but it moved them (bc I had caps instead of real teeth) so my mouth was/is a sensitive area."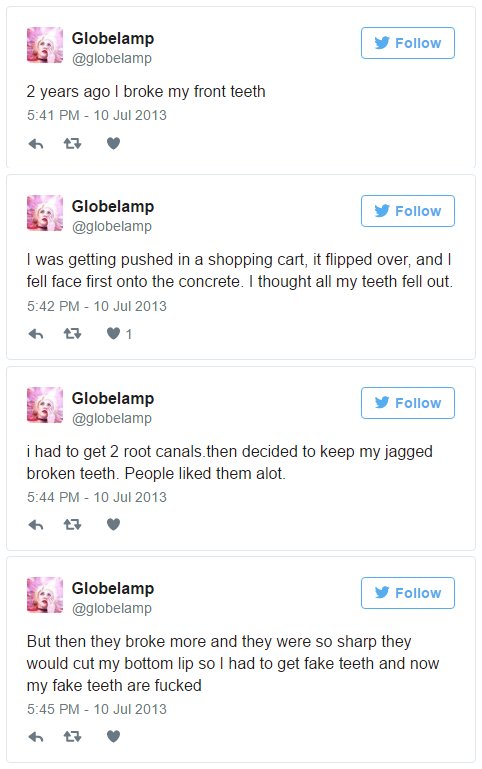 Both before and after alleging Sam hit her, Lizzie repeatedly posted about her teeth on the internet, including x-rays of her mouth and pictures of her missing teeth. In July 2013 she explained "2 years ago I broke my front teeth" "I was getting pushed in a shopping cart, it flipped over, and I fell face first onto the concrete." "i had to get 2 root canals.then decided to keep my jagged broken teeth. People liked them alot." "But then they broke more and they were so sharp they would cut my bottom lip so I had to get fake teeth and now my fake teeth are fucked." Two weeks later she told the same story on Tumblr, with a few more details:
"So today I was eating a banana and my front left crown fell out. The whole tooth is gone, there is nothing left. A gap. The remaining tooth was stuck in the crown I guess. I am going to the dentist Monday. It kinda feels weird and I started crying when it fell out, not because it hurt, but because it was so shocking and freaky to see my fucking tooth fall out. I am pissed off. I just got these crowns in 2 years ago, if even that." (July 20, 2013)
"a few years ago some fool was pushing me in a shopping cart. he started pushing it really fast and I kept yelling out STOP but he didn't. the next thing I knew the cart flipped over and I fell flat on my face onto the concrete. I thought all of my teeth had fallen out. thankfully only my front teeth were chipped. I left them broken for a year and then had them replaced with veneers. those have been in for about a year and a half and then recently they had moved because of some unknown reason ( I think eating an apple) so I flew back to my home in southern california. while down here my left veneer fell out while eating a banana. so now I have to get implants I think :/." (July 26, 2013)
Later that summer she began a gofundme campaign to pay for dental work, offering perks like her Globelamp EP and a song personally written to order "about whatever you want." In late August she tweeted that she would write a song with Sam for a diamond level backer as a reward for his "donation for my teeth." She needed "4 wisdom teeth taken out and my front crowns taken out and replaced with implants." Her campaign pitch began, "A year and a half ago I had porcelain crowns put on broken front teeth. Unfortunately after going on an intensive tour I noticed that they had shifted and became crooked. It was bothering me a lot so I flew from Olympia, Washington to Orange County, California to have them checked out by the surgeon who had done the surgery. I had trauma to my mouth after I toured with Foxygen. While I was visiting one literally fell out into a banana. I had to have surgery to have the other crown removed. I talked to my dentist and asked him if I could have the money back from the surgery and he gave me half the amount. I now have been wearing a flipper for the last 2 months and am am toothless with out it." As stated on page 1 of this article, Lizzie says she broke up with Sam in the months that followed the launch of her gofundme campaign and a 32-page, five year restraining order was issued against her in January 2014.
The back and forth between Globelamp and Lennon dwindled in the past few days, though not before Globelamp accused Lennon of a transphobic statement. "why do you think sean ono lennon thinks getting gender reassignment surgery would make him a woman??? do you think that sean lennon realizes this is transphobic??" she tweeted at Against Me in reference to Sean having said that he has not experienced life as a woman and "I ain't gettin reassignment surgery just to walk in a woman's shoes." Lizzie also took to criticizing Paige Stark of the band Tashaki Miyaki, who she toured with this summer, and Joel Jerome of the Psychedelic Thriftstore record label (which issued the first pressing of Globelamp's The Orange Glow). In all there's been untold tweets, Instagrams, Insta comments and Tumblr posts slinging shots between Lizzie and the others. For easier reading these are collected below:
Globelamp: Sean Lennon private messaging me to shut up about the abuse I've been through because his friend is running Desert Daze….uhhh
your fame doesn't scare me or intimidate me dude
Sean: This is slander. I never told you to shut up about abuse. And I never spoke of my fame. You making DM public is repugnant.
Only a very sad person would publicize private messages w out consent.
Very suspicious when someone takes to public slander when their perspective is challenged. Interesting indeed. What could it mean
When someone makes private DMs public w out permission it indicates they are vile and repugnant. Worse when they lie about them.
Are Globelamp fans called globs? I'm being harassed by globs from left and right. Hehe.
Globelamp: you privately messaging me to tell me to stop protesting is repugnant. look in the mirror buddy.
i am a public blogger who documents my life, didnt you read the link i sent you….obviously not

I personally wouldn't want 2 be involved in messy drama unless I had to…why invite yourself into a shit storm
It's sad that Sean Lennon blocked me because I am posting about protesting desert daze
This is already hard enough, i really don't need any more negativity
Sean: I blocked you because you're slandering me. Nothing to do with your fucking w my friends, just u fucking with w me.
Globelamp: Yo bro I get that they're your friends, but maybe you should keep out of drama involving abuse if you don't know wtf yr talking about
Sean: I know that if Jimi Hendrix had slapped his GF boycotting all Woodstock would be ridiculous!
On Twitter you say 'yellow isn't my favorite color,' ppl tweet 'Sean hates orange!' 'Why? Cuz there's yellow in Orange!' Not the same thing!
Globelamp: hey I don't want us to resort to putting Sean Lennon down or bring up his dad. I am disappointed in him.
Sean: I was fan of your music. I read your article DM in good faith and gave you my honest opinion: I can't judge. You went public.
I tried to keep this a private DM w Elizabeth but she chose to go public. I'm just defending myself.
I chose not to take sides in this conflict because I was not there and cannot know.That does not make me a misogynist
Being a feminist does not however mean making judgement for or against a case because someone is a man or woman.
Can't begin to say what a breach of trust that is. And my having a neutral opinion about your ordeal does not make me a silencer
I take it very personally to essentially be accused of misogyny when I was raised a near militant feminist.
I certainly don't think abuse should be ignored. But it is not for Twitter to be judge and jury nor a festival.
Elizabeth: Sam is lying! Sam: Elizabeth is lying! Court: Sam wins. You: it's the patriarchy anyone associated w Sam is bad!
Globelamp: I could build a castle out of all the bricks they threw at me and every day is like a battle but every night with us is like a dream
Sean: I'm not angry at her, maybe some of her more abusive followers, but not at her really. But since I did nothing wrong and she did many things wrong it's normal that I defend against ppl accusing me of horrible things like misogyny and being an abuse apologist. And she has never admitted to throwing me under the bus and then pretending to be a victim of me when the opposite is true. It's just unconscionable and no self respecting person would put up with it.
She was not wrong to decide to boycott and I was not wrong to tell her not to. She was WRONG to betray my confidence and make this a public debacle nightmare! She has yet to take any responsibility and on the contrary has repeatedly said I pushed myself into her business. Then she implied that I was trying to silence ALL of her campaigning which is also false. I never said don't boycott Foxygen. She has yet to admit that was also BS. Meanwhile I literally have done nothing to her but defend myself against her choice to go public and betray me and then her choice to frame everything in a terrible light.
But I do think it's not cool to punish and entire group of ppl for the behaviour of one on principal. It's because I told her that she chose to go after me publicly. And no I won't stand down until my accusers retract.
I have zero relationship. This is someone who DMed on Twitter. That's why I can't come out for or against either.
Globelamp: he is the one who threw himself in2 my problems w/o hearing both sides. This really has Nothing to do with Sean
Sean: Explain how I threw myself into his conversation. Was it before or after you initiated this conversation?
Indidnt get involved I just responded respectfully to a DM from a stranger and she went public.
Globelamp: i never asked u 4 yr opinion about desert daze. I asked you to share my article and when you didn't i didnt reply
out of nowhere you gave me your unwanted advice & told me to "please stop" so please stop playing the victim
Sean: Out of nowhere!!!? You sent ME the article and I have no advise!
playing the victim? Omg the irony is so intense. I really really wanted to like you. But you're just too ridiculous.
I offered my opinion on desert daze because they are my good friends! That's normal!
How is you soliciting my support my getting myself involved?
Globelamp: Ten short years of progressive change, fifty fuckin years of calling us names.
you werent responding to anything dude. You agreed to not share my article and that convo was over.
Sean: The convo doesn't have a beginning and end. You asked me to publicly support your position the rest was an extension.
We're still talking about it actually. But once you went after my friends I had to ask you to stop: self defense.
Globelamp: total silence for a few weeks then yesterday out of nowhere
Sean: The silence was you being rude and ignoring my response. Then I asked you to leave my friends alone.
Responding to you boycotting innocent friends is NOT out of nowhere.
Globelamp: the silence was me respecting your opinion & not talking 2 you anymore about it bc you made your opinion clear
Sean: Okay well silence doesn't sound like that to anyone ever. But I can't deny your intention.
And hen when I asked you to stop boycotting my innocent friends what did you do then pray-tell?
Out of nowhere and exactly when I read she was randomly boycotting @ for no real reason.
It was not advise it was asking you to stop attacking my innocent friends @
Globelamp: why he's involved in this messy drama w/o knowing both sides, only he can tell you, bc it sure as hell isn't based on logic
Sean: Actually just started looking into the other side, the one you didn't tell me. Very interesting actually.
The fact that I don't know is the point. Neither do Desert Daze. Not knowing means we cannot judge either way: Neutrality.
Globelamp: That girl is so crazy
That woman is so hysterical
Hysterics
Burn the witch or brand the bitch with a scarlet letter!
Im already the underdog, was framed in court, now im being harassed by sean lennon and his fans because i boycott desert daze
Its really fucked up seeing a person with power and fame try and turn their fans against me and call me crazy. How original.
Another guy calling a woman he doesn't understand crazy…i thought we were in the 21st century? Not colonial times?
Sean: Calling you crazy has nothing to do with colonialism not your sex. It simply is calling a spade a spade.
Typical how misguided people think insulting someone who earned it has to be about sex or colonialism. #iseeidiots

Globelamp: As a human, and an American, i have a right to protest whatever i want
If a store decides 2 sell fur ill stop buying from them. They lose me as a customer. Same as a festival with a problematic act
Sean can go listen to foxygen, a rip off beatles band
Sean: Honestly I listened to your stuff more.
Globelamp: What a manipulative guy. scary, really. Instant karmas gonna get you
You better get yourself together. Pretty soon youre gonna be dead.
Better recognize your brothers
Ev'ryone you meet
Why in the world are we here
Surely not to live in pain and fear
Sean: How do you sleep at night?
Sean: Perhaps just unhinged.
Globelamp: you are all going to regret this…keep harassing me…let that instant karma come
Sean: Oooh getting spooky now.
Globelamp: and who are you to diagnose anyone with mental illness? Check yourself and shut the fuck up.
Sean: If I'm crazy then you're completely bonkers.
Globelamp: you have never met me and communicated with me via twitter. Why name call someone when they are already down? Sad
Sean: Are you joking? LMAO! That was funny though.
Unhinged isn't an official diagnosis. Logically challenged might be more accurate.
Desert daze is not the problem. I'm not the problem. Lizzie's ex boyfriend might be the problem. She may also be. No one knows. But the fact is, good people out on desert daze defending that festival by no stretch of the imagination makes me a misogyny or an apologist for abusers. It's just ridiculous to say that. Good night (morning), all you moral justice warriors. You've been shadow box and don't even know it.
Globelamp: getting a message from Paul Baribeau saying he would totally protest Woodstock with me just made my night
"She was the star of his video" and "The girl's gotta go/His mama says so" become doubly devastating once you know the Foxygen back story.
i want ppl in my music community to acknowledge violence against women and gas lighting
Sean has no right to tell me to stop protesting a festival that he isn't even playing at
Sean: 'I have no right' liberal against free speech. Nice.
Globelamp: who cares if I protest the festival? I'm not beyonce. I don't have a massive following and my fans care
I told people to leave the other members out of it. i never go putting them down.
Sean: Leave them out of it but boycott them. #logic
You can't boycott an entire festival yet leave ppl in festival out if it. Premise is flawed your story crumbles.

Globelamp: he is trying to dumb me down too saying I am wrong and he is right. I feel like he is used to getting his way.
he prolly could never fathom going to court without a lawyer or being framed..dude prolly had a lawyer at birth

"I admit that i shouldn't have posted our private conversation but I was upset he was trying to talk me out of protesting"
Globelamp: that isn't why i went public. You just happened to being attention because for 3 days you keep talking about it
Sean Lennon is showing exactly what is wrong with men in the music world. Its all about them and their ego s and they could nevrr be wrong
i hope one day you are never abused and people call you ridiculous..god bless

Sean: People are not calling you ridiculous because you may have been abused. It's because you're being
And we have to treat both genders equally and not side with one w out evidence.
Globelamp: A real tough guys sends millions of his followers to attack an already silenced diy female musician. Looks great. Keep digging.
Shows a lot of character when someone so famous has to blast a smaller artist and make her cause all about him. So entitled I can't even
Gas light: 1. Manipulate (someone) by psychological means into questioning their own sanity.
I guess a famous rich guy would never realize why a protest would be needed
It's gross seeing someone with that much power slinging it around telling people to stop their boycott because their friend runs a festival
Talking to LA weekly about the desert daze protest today. We have more momentum than ever and even more reasons to boycott
Sean: Why don't you boycott Foxygen instead?
Globelamp: im protesting the festival because of Foxygen. My story deserves to be heard
Sean: @desertdaze deserves to happen.
Globelamp: never doubt the power of your voice when you see the desperate lengths they go to silence you
FyI Sean Lennon has been arguing with my fans for 3 days about my right to boycott an event
To all the random Sean Lennon fans who are mad at me because I asked him to share my court story first read these two articles then come back to me before yelling at me. If you are going to put me down at least know what you are talking about. I asked Sean Lennon to share my Impose story about Foxygen which he declined to do. I respected that and never asked him to share it again. I started a protest against Desert Daze, a music festival, because Foxygen is booked at it. I randomly got a lengthy message from Sean requesting I halt my protest because his friends are running the festival and have a kid. I felt it was offensive that someone with his amount of power was telling me to halt my protest. Didn't he even read the article I sent him? I feel like I have been black listed and Sean Lennon is adding more to me feeling alienated in the music scene. I have nothing to hide.
he thinks he is a feminist just because he was born by Yoko basically
you don't need to tell a woman to not have her protest when she ALREADY feels silenced & YOU knew that
You should see the private messages, I felt like he was subtly threatening me..gonna "expose me" for what exactly?? no idea
Sean, you kept going on & on to my fans/friends about how you were right
and couldn't see any faults in yr argument. you may not always do this but U weren't listening
for three days..u argued with them and me about my right to protest a music festival

Sean: Again stop saying I told you not to protest. Boycotting @desert_daze is not your only point is it? I hope not.
Globelamp: no it's not my only point. I'm just saying, you were arguing with people on my page :/
Sean: I wish you could paraphrase me once and actually be accurate. Just once.
Globelamp: If u pay 4 the festival, yr supporting foxygen down the line. Thats it. No ifs or buts
Sean: Sure and nothing has been proved concerning Foxygen so how R @desert_daze suppose do take ur side?
Globelamp: its a protest, look up the history of them. I'm not explaining radical change to you.
Sean: Cancelling @desert_daze would be 'radical change!' Funniest u've been yet!
Globelamp: 2 whine that it's unfair to not give money to people u have moral objections to is ridiculous
Sean: Again I never did that. You're terrible at paraphrasing!
Globelamp: Sean Lennon continuing to mock me for my protest against desert daze…going on day 4
I think Sean Ono Lennon will only be happy when I stop protesting desert daze and give up speaking up for myself and my justice
Sean: Sorry who has been proven to have abused who? If she has or hasn't it's been gross/uncaring to decide w out knowing.
Globelamp: I had no money for a lawyer Sean & represented myself in court :-/
Sean: That's unfortunate doesn't change my inability to make a judgment on your personal life nor Sam's.

Globelamp: then stay out of my protest and find something else to do.
Sean: Wait that sounds an awful lot like you're trying to silence me. That wouldn't be possible would it?
Globelamp: you may disagree with my protest but I want my voice to be heard about violence in our local scene
i asked sean to share my story he wouldnt take sides then weeks later told me to stop my protest
its not his business, shouldnt he care more about a woman, a fan, a musician talking about abuse? I mean wtf
the lead singer of Foxygen abused me and framed me in court silenced me with his money
I don't care what you guys think. Got it. Peoples jobs are important. Next.
Why are all of Sean Ono Lennon fans so keen on explaining to me why I am wrong for protesting desert daze? Its fucked up. It really is.
its gross that you think you can go on someones twitter & give them ur reasons Y they cant boycott a festival
Sean: Yeah really so gross. Hmmm…having an opinion on Twitter. Evil!
No one is telling you not to have your voice heard. Just leave innocent ppl alone. Or don't and be immoral
You boycott the oppressor not the innocent.
Globelamp: I guess i shouldn't be vegetarian bc some innocent person will lose their job at a factory farm
its not ok for a person with his power to tell me and a few other battered women to stop our protest
Sean: If the abuse had been proven then it wouldn't be okay.
I certainly have lost all hope of you stopping your boycott of innocent friends of mine don't worry.
Globelamp: do you really think my boycott is even doing anything except having a small group of women not go?
im flattered you think a large amount of people would even care because they don't
if anything this has helped the conversation get started about men getting away with abuse in our music scene

Sean: I don't think anyone should get away w abuse let's make that clear.
Globelamp: keep making yourself look like sexist guys trying to keep a girl quiet, go on, it will look gr8
ive already been thru enough by putting my story out there & being vulnerable :-/

Globelamp: My twitter is now a social experiment to see how people react to a woman sharing her story and sticking to her guns
Globelamp: i was wrongly convicted as guilty so whats your point? You do realize you would never be in this situation?
Sean: My potentially being in a situation has zero to do w system of ethics I am defending.
Globelamp: actually it does.
Sean: So because I'm not a woman I should not be meticulous before passing judgment on criminal allegations?
Globelamp: no because of your status and class u would prolly never be in a scenario where u couldn't afford a lawyer
you are part of the 1% don't act like you understand the common middle cass

Sean: My gender class or rave have nothing to do with what is or isn't ethical. Morality is universal.
Im not acting like anything. I'm just explaining my idea of right and wrong. My class does not invalidate

Globelamp: I never asked 4 ur opinion on the protest. i'm not a huge famous person that is even impacting the festival.
Sean: I'm absolutely entitled to give you my opinion when you have a campaign maligning and undermining my friends.
I never said you asked for my opinion. Why do you keep saying that? I never asked for you to drag me into this.

Globelamp: Touring with tashaki miyaki was like literal torture
Tashaki Miyaki: @globelamp you are 1. A LIAR 2. A HUGE Bully. You are truly the epitome of clueless and ungrateful. You should get seek some help.
after experiencing ur completely psychotic behavior on tour I was hoping to never engage with you again but I will not standby
and let you bully, lie, and insult myself, my band, and joel who have all supported you. It is ur own actions & behavior

ur right about the truth being important so maybe start telling the truth
I also support you @seanonolennon – you have absolutely nothing to do with this & don't deserve to be Internet bullied
Joel Jerome: Don't believe the hype
Globelamp: Sean lennon is worth 200 million and is telling me he can relate to not affording a lawyer
They [Tashaki Miyaki] talked during my set when they were even there, most of the time werent there, never hung out with @bbvenusmilk and I, & were rude af
Every one of my friends that met them thought they were pretentious & stand offish. A true bummer when u invite someone on tour & get them

Tashaki Miyaki: 1. I am sick. You know that! I have extreme Hashimotos- we had to leave after we played so I could get to sleep b4 3am
2. Ya we talked a little with our SF family at Brick & Mortar – who cares! It's a rock club

I supported you, made you music vid for FREE, ur behavior is horrid- you lie and twist things to suit ur purpose #globelamplies
Stop Internet bullying! #globelamplies @seanonolennon @NylonMag
Globelamp: There is something out there called K A R M A
the best part about K A R M A is you can't escape it baby

Tashaki Miyaki: I stand with @joeljeromemusic @desert_daze who have both been nothing but kind& supportive to all in the LA music scene #globelamplies
I feel especially horrible for @seanonolennon
I can personally only speak for my band & Joel but close friends who know @seanonolennon say he's lovely- and I believe them.

Globelamp: I lie? Oh ok paige
they were the biggest divas on tour..was torture
What high horse are you on to publicy say "globelamplies" when you have no idea if im lying
Globelamp: My friend Cherish & I couldn't believe how pretentious they were
Im really against this social climbing entertainment industry
Fyi if you wanna tour with a band that acts like they are smelling shit all the times and belong with the dursleys hit up tashaki miyaki
Tashaki Miyaki: I will not stoop to your level of personal attacks. Not sure how it's social climbing to defend my band & one of my best friends
your friend Cherish would apologize to us about your behavior. Check yourself. You are a mean girl.
my band went on a tour w her where we lost quite a bit of money & she attacked us on social media
Globelamp: Just trying to jump on the drama wagon to get attention or what? I picked tashaki miyaki as my opening band and they were so rude
Tashaki Miyaki: we played our hearts out. My job on tour is to play well & take care of my band.
Globelamp: Best part about tashaki miyaki is their guitarist is in hot hot heat. Paige wouldn't let me tell ppl on tour bc it would effect their image?
The people are sick of these corrupt systems everywhere in this country
Im fed up with Sean Lennon continously saying i sought him out for support about desert daze..no actually Sean I didnt…mega manipulator
i never asked yr opinion on the festival i asked you to share my story weeks b4
Sean: Since when is writing someone with an opinion who wrote to them a problem? We all have opinions.
Soliciting doesn't = asking opinion. Giving my DM opinion is totally normal. You betraying is not.
Globelamp: yes but you obviously werent putting into perspective where i was coming from and how i felt
 i asked you to share my impose story. Thats it.
Sean: Yup and I told you I couldn't and to not boycott innocent friends. Then you betrayed and now lie.
I don't know you what perspective am I supposed to have? I only have perspective on those I know.
Globelamp: the perspective was in the link if you even read it like you said you did
Sean: Magazine articles the truth do not make.
Globelamp: then you are the problem. Write it any way you want to make yourself feel better. Your actions speak VERY loud
Globelamp: Sean, dear God, dont play the victim, seriously. Betray you? Get a grip
when someone asks u for help, tells u they feel silenced/blacklisted, & yr response is 2 shut down their protest
Sean: Technically going public is a betrayal. Now you continue to lie. You are in fact targeting me.
Is the only protest you have protesting desert daze? If not then stop lying. If yes then you're pathetic.
Globelamp: what am i lying about? Why are you calling me pathetic?
Sean: You keep saying I'm trying to silence you period, that's patently false.
It's clear you are unable to think logically so perhaps we need to disengage.

Globelamp: stop trying to belittle me by acting like i don't know logic. Once again, you are making yourself an asshole
thats most . peoples opinions when they meet her[Paige of Tashaki Miyaki],she is unfriendly and standoffish unless you know her
Tashaki Miyaki: You're right Lizzie I struggle with extreme social anxiety and shyness. Thanks for bullying me about it.
don't worry Sean she's on me 2 now. It seems shyness & being a sometimes actress are horrid offenses
and trying to stop a bully who is actually all the things she accuses others of being
I was on team globelamp until she started trashing me and Joel for no reason
she's lying about ME and shaming ME
she lied about ME and JOEL. We both have helped her and she turned on us for no reason and is now bullying
all you do is call names and attack people if they don't agree with you. Personal and cruel attacks.
I work hard to combat my shyness but it's extra hard when im performing. I become v reserved around strangers
I get very overwhelmed and become quiet. I used to shake on stage. Took me years 2 be able to ply in front of people
love to know how we are pretentious. We went on tour w Lizzie where there were 3 people at most shows
Globelamp: that is why they were rude the whole time. they were mad that the shows weren't packed. =/
a packed show isn't all music is about. it's about community and feeling things.
Anna Gordon: we even gave them most if not all of the door money from the Oly show to help them out…
Tashaki Miyaki: we would've happily not played that show. We lost money on gas driving there and back.
we were already several hundred in the hole and we don't have much
we don't have a record deal or anything- we took off work and paid out of pocket to tour w
we paid to be on that tour and all @globelamp did was insult us publically
Globelamp: Forced to play? We gave u all the $. Is that a joke? Damn It would have been a better night if U didnt play.
just thinking about that day gives me anxiety
Tashaki Miyaki: I am ill with severe Hashimotos and get easily fatigued. Sorry I didn't have the energy to be fake nice
it would be fake of me to act overly energetic. Im a shy person. There's nothing wrong w that
definitely wasn't trying to be a snob. Just shy and not feelin well.
I work hard to combat my shyness but it's extra hard when im performing. I become v reserved around strangers
I also feel if when I'm performing if my process is to be introverted before/after playing that should be ok.
Joel: paige from @tashaki_miyaki is one of my closest friends and supporters, she is a very good, loving human being, she has my full support
@tashaki_miyaki deserves the best from life and would be glad to share any good she has with her friends. To know her, is to love her.

Tashaki Miyaki: I'm so grateful for my friends and musical family. Spread love not hate.
Anyone who suffers with social anxiety, shyness, depression and feel misjudged. I gotchu.
"Shyness is nice, and shyness can stop you from doing all the things in life you'd like to."
Can't do this back and forth it's a bad vibe. I have nothing to say to haters.
the inmost in due time becomes the outmost. Can't reason with the unreasonable. Stay positive.
Globelamp: HMM STRANGE THAT THE NYLON ARTICLE IS GONE. I WONDER WHO THREATENED THEM, FOXYGENS LAWYER OR.SEAN LENNONS?
it doesn't surprise me that a sean ono lennon fan tweeting me a bunch of blah also dislikes Yoko. makes perfect sense that h8s both of us

Globelamp: people a lil bit older than me don't seem to understand how the internet works. they will post offensive things and get upset ppl are mad
a lot of people on the internet are more progressive than the average person when it comes to politics and social justice
so when someone doesnt know that & fires out their outdated opinion, they are basically treading in shark filled water trailing blood
We are looking for permission to be more than our society tells us we are
#boycottfoxygen #boycottdesertdaze
@desert_daze is I guess so important that they will try 2 silence a voice & take down an article 2keep it going, fuckthat #boycottdesertdaze
baby I could build a castle out of all the bricks they threw at me
Instead of taking Foxygen off the bill, @desert_daze people rather argue about it for a week and fight me
I had to type that statement out after reading all these accusatory posts saying I am trying to "get revenge" i mean dear god…
over my dead body

my phone is 99% broken and that is how i was communicating online. please don't believe the lies. the truth will come out in the end.
my protest has turned around and become an attack on my personal character by strangers. Lets keep the focus here.
Regardless of what you think of me, I still have the right, as do YOU, to protest an event.
If you feel so threatened that I am protesting an event, I am flattered you think I have that much power to see change.
To be so threatened by me telling my story means that someone is afraid and has something to hide.
It's funny really. These ppl think that by hiding my story, it will go away. It will only hurt them in the long run harder.
When you are telling the truth, you have nothing to hide.
Jesus Christ died knowing that what he believed in was right even though the majority of people wanted to see him tortured
all the people calling me problematic are troll accounts or ignorant sean lennon fans