Jingle Bell Rocks!, a moving documentary by Mitchell Kezin about the power of music as demonstrated by a dozen obscure Christmas songs, features exclusive interviews and performances by The Flaming Lips, "Rev Run" Simmons, John Waters, Dr. Demento and more. In one of the film's must-see scenes Bob Dorough explains how he came to write alternative Christmas classic "Blue Xmas (To Whom It May Concern)" at Miles Davis' request and record it with the jazz icon. The segment is replete with Bob unearthing the original handwritten lead sheets he wrote for Miles and ultra-rare alternate takes of the song from the vaults. . .
. . . unheard since their August 1962 recording session!
Since finishing Jingle Bell Rocks!, Kezin has delved deeper into Dorough's remarkable 70-plus years in the music business. Among the footage shot so far:
Dorough performing at The Blue Note in Tokyo and the HSO in Houston
Dorough rehearsing in New York City
Dorough at a local Farmers Benefit
Dorough spending a day mentoring a middle school band
…and more (see links to videos at the bottom of this page)
All of the above and more will be included in But Not For Now: The Music & Mojo of Bob Dorough, Kezin's next documentary.
Most Americans know Bob for his beloved kids songs "I'm Just A Bill," "Three, Is A Magic Number" and "Conjunction Junction," among many others written by Bob in the 1970s for ABC Saturday morning cartoon Schoolhouse Rock! Some simply know these songs' permutations throughout pop-culture, such as "I'm Just A Bill" parodies on The Simpsons and Saturday Night Live.
What most don't know is the rest of his amazing story…
At 92 years young, Bob is not only still around to tell it, he's still writing new music and inspiring audiences the world over with his performances.
One of the most unique singer-composers in jazz history, he's performed with Charlie Parker and Louis Armstrong; composed for beat poets Ferlinghetti and Ginsberg; toured with Lenny Bruce; produced records for The Fugs, among others; traveled as the musical director for boxer Sugar Ray Robinson; written a Top 40 hit for Mel Tormé; and had his songs covered by Roberta Flack, Maya Angelou, Tony Bennett, Nina Simone and many more…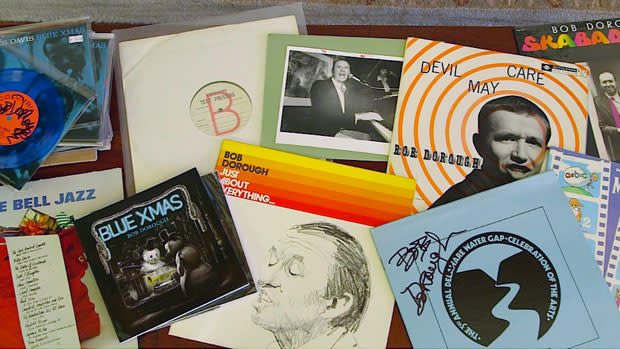 Visit indiegogo to help fund the film and receive special perks (limited edition Bob Dorough Trio Live in Japan 2015 DVD; the unedited Jingle Bell Rocks! footage of Bob performing and explaining "Blue Xmas" on CD or DVD; "Blue Xmas" limited edition 7″ on blue vinyl autographed by Bob; "Blue Xmas Story Book" by Bob and illustrator Christian Farner with a CD containing two newer versions of "Blue Xmas," one with Phil Woods, another with Dave Liebman, plus Bob's "Wouldn't It Be Wonderful If Christmas Came;" even the opportunity to take a jazz piano or vocal lesson from Bob). Don't wait – the campaign ENDS this Sunday, February 7th at midnight!
Watch the Kezin and Dorough in the filmmaker appeal here, and preview segments of the film at the below links:
More than a documentary about a too often overlooked artist, But For Now is a touching story about passion, aging and art.
For updates follow at twitter/doroughdoc and facebook/doroughdoc.